Pop-Up Heart
This homemade card with a pop-up center is sure to please your Valentine.
Pop-Up Heart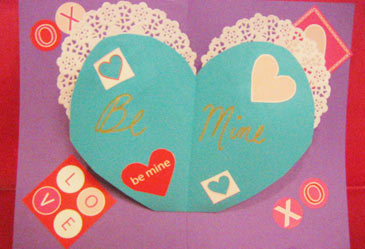 Materials:
Paper
Scissors
Doilies
Stickers
Paint, markers, or crayons
glue or tape
Directions:
Fold the piece of paper in half lengthwise.
Cut out heart.
Cut three 1/2" by 10" strips of construction paper.
Fold the strips accordian style.
Fold a large sheet of construction paper in half.
Decorate your heart and card using the stickers, paints, markers, doilies, and crayons however you want.
Glue or tape the accordian-folded strips to the back of the cut out heart and to the blank folded piece of construction paper.
Fold the heart and construction paper closed.
Your heart will spring out every time you open the card.
Was this article helpful?
Thank you for your feedback.