Cardboard Printing
Make your own signs, pictures or wrapping paper with this fun and easy craft idea.
Cardboard Printing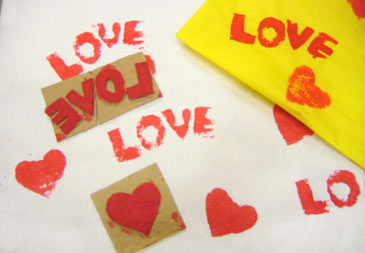 Materials:
Square of heavy cardboard
Scraps of cardboard
Glue
Scissors
Paint
Directions:
Using the scraps of cardboard, cut out shapes to be printed and glue them to the square of cardboard. For added effect, lines and texture can be scratched into the cardboard with a pointed object. Letters and would should be a mirror image.
To print, use the paint brush to apply tempera paint to the designs glued onto the cardboard.
Turn over and press down firmly on paper to be printed. Make a practice print before printing on selected paper.
Carefully place the stamp face down on the paper and press genlty on the top. Lift and print again. It is possible to get two or three prints from one painting.
Suggestion: Print on any kind of paper, such as tissue, butcher, newspaper, construction paper, paper towel, and newsprint. Very nice textures can be achieved when using rough paper.
Was this article helpful?
Thank you for your feedback.