Valentine Card Holder
Help your child with this Valentine's Day arts and crafts project and create the perfect place to store Valentine cards.
Valentine Card Holder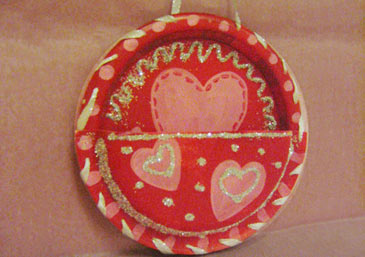 Age:
Preschool and up
Time:
30 minutes
Type of Activity:
Arts and crafts
Have your kids add a little love and creativity to these valentine card holders, and then make a few cards for friends and family.
Materials:
Two paper plates
Red or pink ribbon or yarn
Hole punch
Decorative materials (stickers, buttons...)
Paints, markers, or crayons
Craft glue
Directions:
Cut one of the paper plates in half.
Have your child decorate the plates. She should decorate the backside of the half-plate and the inside (topside) of the full paper plate. Have her use paints, markers, or crayons to make her own unique design. She could also glue some old valentines to the outside as added decoration.
After she has finished decorating the plates, let the paint or glue dry completely. Then put the plates together, with the inside of the half plate facing the inside of the full plate. Line up the bottoms of the plates so they form a pocket.
Punch holes all around the rims of the plates.
Starting at the top of the plate and working clockwise, begin threading the ribbon or yarn through the holes. Leave an extra inch or two of ribbon at the top.
When you've threaded the ribbon or yarn all the way around the plate, take the extra ribbon at your starting point and tie it to the end of the ribbon. Use this loop for hanging your holder on a hook or doorknob.
Fill your holder with valentine cards!
Now that you've made some room for your Valentine's cards, why not make a special valentine for your friends and family? Pick out one of our printable cards, add your own personal touch, and make someone's Valentine's Day special!