Laced Heart
This Valentine's Day art project will help build your preschooler's coordination.
Laced Heart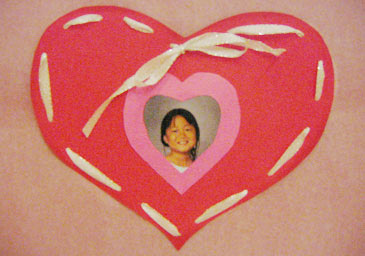 Materials:
Poster board or heavy construction paper in valentine colors (white, pink, red, purple)
Hole punch
Tape
Ribbon in contrasting colors
Photo of your child (optional)
Glue (optional)
Magnet (optional)
Directions:
Cut a large heart shape out of poster board or heavy construction paper.
Punch an even number of holes around the outside edge of the heart.
Tape one end of a ribbon between two holes, leaving an inch or two free to make a bow later, and show your child how to weave the ribbon through the holes, starting at either the bottom or top of the heart.
Tie the ends in a bow.
Help your child write a valentine's message on the heart.
If you like, glue a photo of your child to the front of the heart and a magnet to the back.
Was this article helpful?
Thank you for your feedback.