Butterflies from the Sole
Kids turn their foot prints into a beautiful butterfly with this Mother's Day craft.
Butterflies from the Sole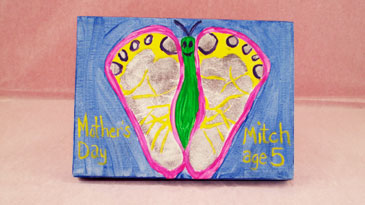 Materials:
Canvas or thick paper
Acrylic Paints
Paintbrushes
Paper Plate
Water
Directions:
Take off shoes and socks and paint bottoms of feet with any paint color.
Place feet next to each other, push down on canvas or paper, and carefully lift feet straight up to avoid smudging. This formed the butterfly's wings.
Decorate the butterfly's wings and paint in the butterfly body.
Sign your name and age and surprise mom.
Was this article helpful?
Thank you for your feedback.