1452 results found for Tips for Reading with Your Child.
In this article, you will find:
Finding a Safe Day Care Center
Many parents assume that, because states license day care centers, these facilities are safe and don't need parental scrutiny. Wrong!
Grades:
Helping a Homeschooled Child Keep in Touch with School Friends
If your child has been in an institutional school for awhile, he probably has some friends. Removing a child from the school environment obviously presents challenges for your child maintaining these friendships simply because of the realities of no longer spending most of the day in the same place.
Grades:
Kids' Interacting with Adults
Kids and adults sometimes think of each other as alien species. This situation is tougher on kids than it is on adults because adults are bigger and know more. Both, however, tend to be a little uncomfortable when they meet for the first time. Adults may deal with this discomfort by saying dumb things like "Last time I saw you, you were wearing diapers." Children sometimes deal with it by sulking or being silent or trying to be invisible.
Grades:
Family Stories

Family stories let your child know about the people who are important to him. They also give him an idea of how one thing leads to another in a story.
What to do:
The first activities in this list work well with younger children. As your child grows, the later activities let him do more. But keep doing the first ones as long as he enjoys them.
Grades:
In this article, you will find:
Linguistic Gift-Boosting Activities
There are all sorts of ways that kids express their linguistic talents. Some kids devour books. Some tell jokes that always get a laugh. Others scribble poems, write skits, or tell stories. These activities will fuel the fire in your already-eager wordsmith, and they'll spark the flame in the reluctant reader or shy speaker.
Remember, sharing your own love of books and language is one of the best ways to foster that love in kids. How can you do that? Read with them, talk with them, and listen to what they have to say.
Grades:
Talking About Me: Reading

Toddlers like being read to.

Read your child's favorite books. He likes to hear the same book again and again. After he memorizes some of the story, he can join in and tell what happens next. Later, he may want to retell the story on his own.
Grades:
Read Me a Story
Time
Materials
Directions
Invite your child to select a favorite storybook to "read" to you.
Go through each page together and listen to her version, which may be quite close to the actual words. Your attention and appreciation will make your child feel both competent and important.
Extensions
Grades:
Preparing to Visit Colleges
Would you buy a house without walking through it first? When you spend a lot of money, you need to know exactly what you're getting. We've got tips on what to look for when you're looking at schools with your teen.
Visiting colleges soon? Take these questions with you.

Get a jump start on the best ways to test-drive a college.
Grades:
How to Keep Your Crawling Baby Safe
Babyproofing
Although pressure gates work fine at the bottom of a flight of stairs, they provide inadequate protection at the top of the stairs. If your baby falls into a pressure gate, uses it to pull himself up to his knees or feet, or even just pushes hard, he may pop it right out of place and crash down the stairs with it. So be sure to install a safety gate that bolts into the wall or newel post at the top of the stairs.
Grades:
Story Time and Make-Believe
Q-tip
Your one-year-old will probably love the simple stories and bright, colorful, and clear illustrations in the books of the following authors: Sandra Boynton, Margaret Wise Brown, Eric Hill, Helen Oxenbury, Jan Pienkowski, Richard Scarry, Rosemary Wells, and Vera B. Williams.
Grades:
In this article, you will find:
Protecting Your Child from Abuse in Daycare
Watch Out!
Never put your child in a day care facility or home that does not have an open-door policy for parents. You should not have to call first, and no areas that children have access to should be off limits to you.
Grades:
Headaches over Homework?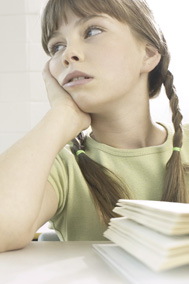 "It's too hard!" has become your child's battle cry. You can't do your child's homework for him, so what can you do? Try these tips from the U.S. Department of Education.
Grades:
The National PTA's Guide to School Music Programs
Brought to you by the National PTA&reg.
As a parent, you should expect your children's school music program to adhere to certain standards. Once you have created a musical environment in your home to stimulate interest, it's up to the teacher to continue the process. Yet how can you judge the quality of a school's music program?
There are three ways to tell if the school your young children attend does a good job of exposing them to music:
Grades:
Software Solutions for Preschoolers
The best computer programs for preschoolers who can't read must feature bright and entertaining graphics, clear sound, and simple instructions. If your pre-reader has any chance of using them on her own, software programs should require no reading or minimal reading. Instructions should be rendered graphically or through spoken words that your child will be able to understand easily.
Grades:
This past week I took my two-year-old to Dunkin Donuts for his favorite treat, a chocolate frosted donut. We had spent the morning at the library with my sister-in-law and her son (who is also 2). Since they played nicely, we decided to reward them. Little did I know I was in for an epic meltdown.