The Sandy Bottom Orchestra: Plot Summary & Reading Questions
Updated: January 23, 2020
Want to know more about The Sandy Bottom Orchestra? Here's a sneak preview.
The Sandy Bottom Orchestra: Plot Summary & Reading Questions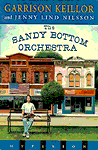 Authors: Garrison Keillor and Jenny Lind Nilsson
Publisher: Hyperion Books, 1998
Plot Summary
The Sandy Bottom Orchestra, is written by Garrison Keillor and his wife Jenny Lind Nilsson. This is Keillor's first book for children (he is well known as the host of the radio program, A Prairie Home Companion, and for his novel, Lake Wobegon Days.) This is also Nilsson's first book. This book is suitable for ages ten and up. Since the main character is a 14-year-old girl, the book may appeal slightly more to girls than boys. However, children and parents will enjoy reading together about the evolution of friendships and relationships.
Fourteen-year-old Rachel Green is convinced that summer in Sandy Bottom, Wisconsin, is going to be boring. She often feels out of place -- except when she is playing the violin, something she excels at. Rachel thinks her parents are strange, and worries about the impact this has on her friendships. Her outlook on life starts to change, though, when she's asked to play with a professional orchestra for the Sandy Bottom July 4th celebration.
Does Rachel's view of her parents change as she shares this experience with them? Does Rachel, a devoted violinist, decide that it is possible to be best friends with a softball star? Will her first romantic interest be anything more than a daydream? Read The Sandy Bottom Orchestra to find out why Rachel's summer may exceed her expectations.
Reading Questions
Use these questions to see how much you remember about the story, or print them out and use them as as a reading guide.
What motivates Rachel to plant a garden? What effect does the garden have on her?


Many of Rachel's relationships change throughout the story. Who do you think she has the best relationship with? If you were Rachel, with whom do you think you would have a good relationship? Would you stay friends with Carol? Do you think Rachel will?


Who is Rachel's penpal? From what she writes in her letters, do you think she is happy with her life? What is she unhappy about? Can you relate to the way she feels?


If the authors wrote a sequel to this story, what would happen to Rachel? At the end of the story, she says she is going to Interlochen. Do you think it's a good idea for her to go? Why or why not?


Did you like this story? Why or why not? If you could change something about it, what would it be?