Navigating the Legal System
A guide for parents navigating the legal system.
Navigating the Legal System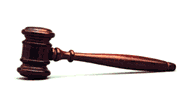 Jane Derman-Kilgallon says she didn't know that her son, David, had a learning disability (LD) until her sister, who has a Masters degree in special education, recognized one of the symptoms: depression.
David's school tested him and determined that the first-grader was reading at grade level. Unconvinced, Derman-Kilgallon decided to have him independently evaluated. The tests revealed auditory and visual processing difficulties -- specific LDs.
Teachers aren't the only ones who overlook the fact that a child may have an LD. The pediatrician may miss the diagnosis, and parents lack the expertise to know which tests are necessary. When parents turn to friends for support, they often respond by saying, "Don't be such worry warts." Derman-Kilgallon says to go with your "gut" feelings.
"If a parent suspects that something is wrong, there probably is something wrong," says Derman-Kilgallon, president-elect of the Learning Disabilities Association of Massachusetts. "Don't let anyone change your mind. You know your child better than anyone else."
Where to start
Under Public Law 94-142, the Individuals with Disabilities Education Act (IDEA), all children, ages 3 to 21, are entitled to a "free and appropriate" education that meets his or her unique educational needs. The law requires that local school officials do the following:
Search for students who might have a disability.
Find the disability by developing a system for diagnosis.
Evaluate the problem through a battery of tests by experts, including a psychologist or school counselor who pinpoint difficulties.
Meet with parents to review the evaluation's conclusions and present a written plan of action or Individual Education Plan (IEP).
Local school authorities must complete the evaluation and make recommendations in 30 days.
What the IEP should cover
By law, the IEP should cover the following:
Your child's level of educational performance.
Short-term and yearly instructional goals and how they will be achieved.
Dates for initiation and duration of services.
The specific special education and support services provided.
A description of your child's participation in regular education classes.
The IEP should be reviewed once a year. You can initiate a review anytime if your child is not making progress, and modify the plan.
Placement options
The law specifies that children with LDs must be educated in a school setting that is "least restrictive." This means that, whenever possible, they must be placed in the regular classroom with children who do not have special needs. Experts now call this practice "inclusion." A 1996 study published in The Journal of Alternative Education found that inclusion does not benefit all students. The Learning Disabilities Association of America (LDA) says schools must design programs to fit the student's individual needs, not stretch existing services. Other placement possibilities can include:
A regular classroom with support services, such as a specialist.
A class the student attends for specific tutoring.
A special residential or day school -- for children with severe LDs.
Beginning due process
If you disagree with the school's evaluation, you may obtain an independent evaluation. If you cannot reach agreement with school authorities on needed services, or if they do not accept the independent evaluator's recommendations, the appeals process begins. The process differs in each state. Usually, parents are provided with information and notified of the availability of mediation -- the process of dispute resolution. If you reject mediation, you and your school system will face a hearing officer who decides the case. You may want to seek legal guidance from a lawyer who knows special education law.
Was this article helpful?
Thank you for your feedback.