Mom's Memory Box
Make Mother's Day -- or any day -- special, with a gift that's full of love and happy memories.
Mom's Memory Box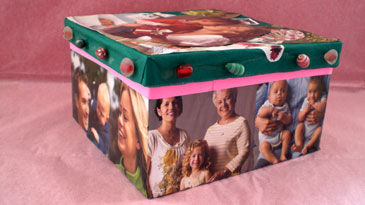 Age:
Preschool and up
Time:
An afternoon
Type of activity:
Arts and Crafts
Make Mother's Day -- or any day -- special when you give this gift that's made of love and happy memories.
Materials:
Newspaper
Shoe or hat box
Acrylic paint
Color copies of family photos and keepsake objects
Mod Podge (can be purchased at any local craft store)
Paintbrush
Sponge
Flat-edged dull knife
Pieces of fabric, buttons, and other decorative objects
Magazine clippings or wrapping paper scraps
Baby or other family photo
Scissors
Directions:
Lay newspapers over your work area in case of spills.
Paint the box and let it dry. Paint any designs on the box that you want to appear as a background (trees, clouds, sun, stars...).
Tear the edges of your family and keepsake photographic images to give them a frayed, antique look.
Experiment with the layout of the photographic images, magazine clippings, and/or wrapping paper scraps you'll glue to the box. When you've decided on a design, paste the images on the box using the Mod Podge and paintbrush.
Keep layering the images. Be sure to eliminate all the air bubbles as the paste dries, using the flat edge of the dull knife.
Wipe up any excess Mod Podge around the images with the sponge.
Using clear glue, attach any buttons, fabric scraps, or other decorative items you'd like to the box.
Give the entire box a final coat of Mod Podge. Let it dry completely.
Now Mom, Grandma, or someone special will treasure this "keepsake keeper" for years to come!
Was this article helpful?
Thank you for your feedback.