The Health of Your Mother-Daughter Connection
Read about how to keep your mother-daughter connection healthy.
The Health of Your Mother-Daughter Connection
Building Blocks
Individuation is taking full responsibility for one's adult self and actions; it means shifting from being mothered to mothering one's self.
Remember that the mother-daughter relationship is not a static one. The health of your attachment fluctuates over time and with circumstances. However, it is safe to say that you can discern an overall pattern that distinguishes the vast majority of your interactions and enables you to more closely align yourself with one of the patterns below.
Marilyn Irwin Boynton and Mary Dell, authors of Goodbye to Mother Hello Woman (New Harbinger Publication, Inc., 1995), have divided mother and daughter connections into five categories that form a continuum of behaviors-not iron clad boxes. An adapted version of their classifications of "connections" appears in the diagram.
Note that those individuals who replace the word "attachment" with "connection" are making a very important distinction. Attachment infers dependency. Connection allows more for a position of self in a relationship. It implies a mutual understanding and acceptance of differences and preferences, according to Rose R. Oliver, Ph.D., professor of psychology and women and gender studies at Amherst College.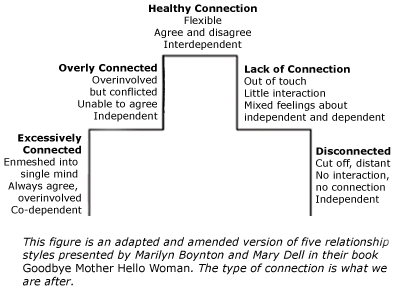 Was this article helpful?
Thank you for your feedback.