Does Mom Always Have to Come to the Rescue?
Learn what you can do as a mother to help your daughters become independent, gracious women -- without your always coming to their aid.
Does Mom Always Have to Come to the Rescue?
Woman to Woman
Learning how to deal with stress or suffering the consequences of mistakes, romantic disasters, or workday problems will make your daughter stronger. It is best to allow children to begin accepting responsibility for their actions when they are young, says Dr. Thomas R. Linscheid. Doing so will better prepare them better for their adult years.
Moms have a tendency to need to rescue their daughters from perceived danger. As daughters get older, they have less of a need to be rescued. However, that doesn't stop moms from feeling the need to be in control, alleviate guilt for past mistakes, or act out of pure altruism.
Not only can this drive daughters right to the brink of insanity, but it also turns them into dependent women. And dependent women, according to Dr. Charney Herst, are sullen, angry, and hostile individuals toward their mother. Independent daughters are more gracious, helpful, and cooperative.
Mothers must learn that 1) they cannot solve their daughters' problems, nor do they have the right to, and 2) assuming the role of rescuer is a no-win situation and can turn their daughters into angry victims of their good intentions.
The No-Win Triangle of Rescuers
A succinct way to view the no-win dynamics of rescuers and victims is by applying the Karpman Drama Triangle. The rescuer mom in the end can do no right and is persecuted by the daughter for not doing enough or doing it wrong.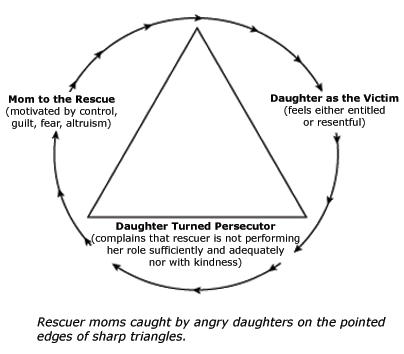 Was this article helpful?
Thank you for your feedback.