Valentine Pop-Up Card
Surprise your Valentine this year with a homemade pop-up card.
Valentine Pop-Up Card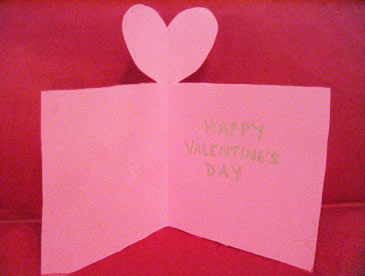 Materials:
Paper
Scissors
Paint, markers, or crayons
Directions:
Fold the peice of paper in half lengthwise.
Cut out a 3" by 3" notch from the top open-fold side.
Fold the remaining portion of the paper that is sticking up (on the closed-fold side) down inside the card at an angle. This will be the piece that pops up when you open the card.
Cut the pop-up into a heart shape.
Decorate the front cover of the card with "Happy Valentine's Day" or as you wish and add your own message inside.
Was this article helpful?
Thank you for your feedback.