Homemade Valentine Cards
Learn just how easy it it to make valentines for everyone near and dear to your child this Valentine's Day.
Homemade Valentine Cards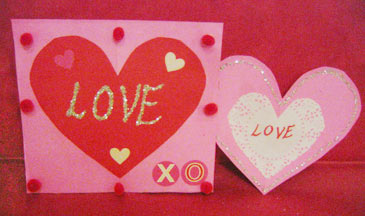 Materials:
Pink and red hearts cut from construction paper (various sizes)
Scotch tape
Elmer's glue
Markers
Paper heart doilies
Small white paper plates
Valentine stickers
Glitter
Directions:
Spread out all the materials on a covered table.
Depending on your child's age, show some examples of how to make valentines: layer hearts one inside the other; add doilies for a lacy edge; decorate with stickers and/or glitter.
Glue the decorated hearts to a paper plate or piece of construction paper.
Your child can add more designs to the background with markers and write a Valentine's message.
Take it Further:
To help your child see that love matters to everyone, read
Somebody Loves You, Mr. Hatch
by Eileen Spinelli, illustrated by Paul Yalowitz. This is a great read for four-to eight-year-olds.
Was this article helpful?
Thank you for your feedback.