Thanksgiving Table Turkeys
Brighten up your Thanksgiving holiday table with these easy-to-make turkeys.
Thanksgiving Table Turkeys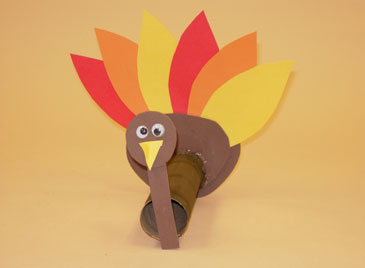 Age: Preschool through elementary
Time: 30 minutes or more
Type of activity: Arts-and-crafts
Materials:

Brown, red, yellow, black, and orange construction paper.
Toilet-paper roll
Scissors
Tape
Elmer's glue
Brighten up your holiday table with these easy-to-make turkeys. Even very young children can help add some color and pizzazz to your Thanksgiving table!
Directions:
Before you begin, draw and cut out all the shapes you'll need from the construction paper:
2 brown circles 5 inches in diameter for the back of the turkey
1 brown circle 4 inches in diameter for the turkey's head
1 small brown rectangle 1"x 2" for the turkey's neck
10 rocket-shaped tail feathers about 8" x 1" in yellow, red, and orange paper
1 brown rectangle shape that is large enough to cover the toilet paper roll
1 small yellow triangle
2 tiny black circles for eyes
Place one of the larger brown circles flat on the table. Glue the tail feathers in a fan shape along the bottom of the circle.
Glue the second large brown circle on top of the first, covering the glued ends of the tail feathers.
Put the toilet-paper roll flat on the table. Glue the circles you just made to one end of the toilet paper roll. The feathers should be pointing up.
Glue the small brown rectangle to the edge of the remaining brown circle. This will be the turkey's head and neck.
Glue the turkey's neck to the other end of toilet-paper roll.
Bend the yellow triangle so that it looks like a beak. Glue it to the turkey's head.
Glue the eyes to the turkey's head.
Wrap the brown rectangle around the toilet-paper roll and glue the ends together.
Now your turkey's ready for Thanksgiving!
Make more birds and start your own table-top turkey farm!
Was this article helpful?
Thank you for your feedback.