Dreidel
Here are complete instructions for making a spinning top -- the dreidel -- for Hanukkah.
Dreidel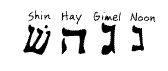 Dreidel is the name of both the small spinning top used to play this game and of the game itself. Follow these directions to make your own dreidel, then read on for some fun dreidel games.
Materials
Small, square milk or juice carton
Plain paper
Tape
Piece of 1/4-inch dowel or unsharpened pencil
Pen or marker
Directions
Flatten the top of a milk or juice carton and tape it securely. Cover the box with plain paper.
On each side, write of the Hebrew characters shown above, or simply write the letters N, G, H, and S.
Push the dowel or pencil through from top to bottom and spin. (The Hebrew characters are the letters shin, hay, gimmel, and noon. These are the first letters in the four words of the Hebrew message nes gadol hayah sham, read right to left, which means "A great miracle happened there.")
Was this article helpful?
Thank you for your feedback.