Halloween Candy Holder
In this Halloween activity, your child will make a papier-mache bowl for serving treats.
Halloween Candy Holder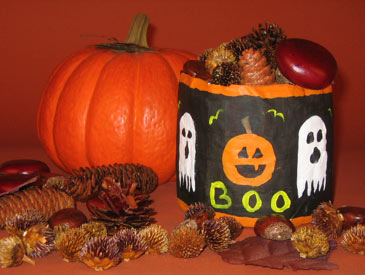 Age: Preschool and up
Time: An afternoon
Type of activity: Arts and Crafts

Your little one will love working on this project -- and thinking about all the candy that will fill her Halloween Bowl!

Materials needed: · Large glass or plastic bowl
· Mixing bowl
· Newspaper (enough for cutting strips of papier-mache and covering the work surface)
· Flour
· Vaseline
· Measuring cup
· Paint
· Paintbrushes
· Glue
· Buttons, ribbon, glitter, stickers, or other decorative materials

What to do:

Step One: This project is messy, so place newspaper over your entire work area.

Step Two: Cut the newspaper into 1-inch wide strips. You'll need at least 50 strips for this project.

Step Three: To make the paste, combine an even amount of flour and water in the mixing bowl until it becomes the consistency of pancake batter. Start with one cup of each and add more if necessary.

Step Four: Cover the outside of the glass bowl with Vaseline. This will make it easier to remove the mold from the bowl.

Step Five: One at a time, dip a strip of newspaper into the mixture and lay it smoothly over the bowl. Keep adding strips until the bowl is completely covered with one layer of newspaper. To give the bowl more strength, add the first layer in a horizontal pattern, then add a second layer in a vertical pattern. Add a third layer of newspaper strips in a horizontal pattern.

Step Six: Place the bowl on top of a layer of newspaper in a cool, dry place. Let the bowl sit for several hours. You may even want to let it sit it overnight.

Step Seven: When the bowl is completely dry, gently pull the newspaper mold away from the bowl.

Step Eight: Now it's time to decorate! Paint your bowl using Halloween colors, or an original design of your own. Glue on any additional materials (ribbons, glitter, Halloween pictures, etc.) you'd like.

When the paint is dry, your bowl is ready to serve up some Halloween treats!
Was this article helpful?
Thank you for your feedback.