Easter Bouquet
Toddlers can use baking cups and pipe cleaners to make a pretty art bouquet for Easter.
Easter Bouquet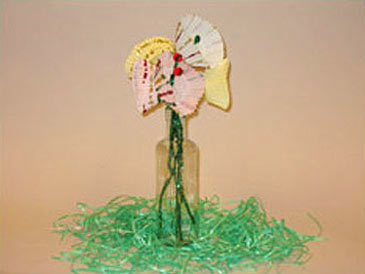 Materials:
Paper baking cups
Scissors
Pipe cleaners
Glue
Ribbon
Glitter
Directions:
Poke a hole with scissors or a pen through the bottom of the baking cup.
Stick a pipe cleaner through the hole.
Bend the top of the pipe cleaner over and glue into place.
Spread glue over the paper baking cup and decorate with glitter.
Bunch together four or five flowers, twisting the pipe cleaner stems together.
Tie with ribbon to make a springtime bouquet.
Was this article helpful?
Thank you for your feedback.