At-Home Billboards
Explore your child's creativity and communication skills with this family activity.
At-Home Billboards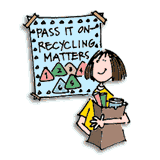 Kids 7 to 12: indoor activity


Required:Posterboard, art supplies, magazines/junk mail
Encourage your young artists to keep the text or "copy" simple, and let the pictures do most of the work. If your kids want to try their hands at creating billboards that advertise, you might suggest they tout their favorite toys and use homemade drawings that make the items seem especially appealing. Then they can write a tantalizing blurb designed to hook potential buyers.

Alternatively, your kids can create billboards that remind family members about their "public service" responsibilities (such as helping neighbors or picking up litter) or household chores (like setting the table or mowing the lawn), or that deal with important issues (political endorsements, recycling, and so on). Your kids can draw their own pictures, or cut images from old magazines and junk mail that bring the message to life, and create a catchy slogan.

Family members can also work together to create a billboard, with each participant contributing something -- one picture or the caption -- to the collage. Begin by finding a product or cause that the whole family can get behind. So how would your family use a billboard to sell "great activity time?"
Was this article helpful?
Thank you for your feedback.