Charlie and the Chocolate Factory
Do you have a sweet tooth for this wonderful tale? Here's a reading guide.
Charlie and the Chocolate Factory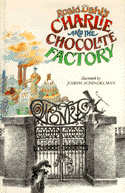 Author: Roald Dahl
Publishers: Alfred A. Knopf (hardcover), Puffin Books (paperback)
Original Publication Date: 1964
Mmm...candy! Ahh...chocolate! Ugh! Those miserable brats Augustus, Veruca, Violet and Mike! Throw them together in a contest with a small, starving kid named Charlie and you've got the ingredients for a zany adventure: Charlie and the Chocolate Factory.
Reading Questions
Here are some questions to jumpstart your book group discussion.
1) Every day, on his way to and from school, Charlie Bucket walked past the chocolate factory. Oh, how he loved that gorgeous smell!
Now take a deep breath, shut your eyes, and try to summon up your favorite aroma. Is it pizza fresh from the oven? A salty whiff of ocean air?
2) If you could create your own wild and weird kind of candy, what would it look like? How would it taste? (For ideas, check out chapter 25 and the labels on the buttons in the great glass elevator.) You can illustrate your invention to help others visualize it.
3) Roald Dahl is a master at creating obnoxious characters (as well as wickedly suitable remedies for their bad behavior): Augustus Gloop; Veruca Salt; Violet Beauregarde; Mike Teavee -- which child do you dislike the most and why? Do you think obnoxious kids should be punished and good ones rewarded?
4) Do you like this book? Is it a tale that satisfies your sweet tooth? Why or why not?
Was this article helpful?
Thank you for your feedback.