Mouse Pad Craft
This creative mouse pad craft is great for kids of all ages to make for someone special in their life.
Mouse Pad Craft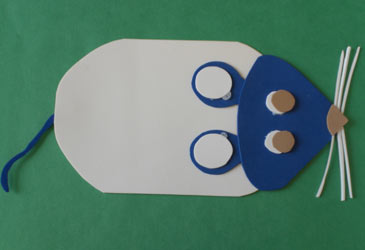 Materials
9- by 12-inch piece of white craft foam
Sheet of blue craft foam
Sheet of brown craft foam
yarn
glue
Directions
Round the corners of one short side of a 9- by 12-inch piece of white craft foam and trim the other short side to a point.
Create a face by tracing the pointed side of the white foam onto a sheet of blue craft foam. Add a curved line for the top of the face, then cut it out.
With glue, stick a length of yarn to the bottom of the rounded end of the white foam for a tail.
For ears, glue two white foam circles to the centers of two slightly larger blue foam circles, then glue the blue circles just under the top edge of the blue face.
Glue thin cuts of white foam whiskers to the end of the snout. Cover the whiskers with a brown foam nose, add eyes, and glue the blue face in place on the white body.
Cover the mouse with a piece of waxed paper, set a large, heavy book on top, and allow the glue to dry completely.
Was this article helpful?
Thank you for your feedback.