Love Box
Decorate a small trinket box with love to show your appreciate for your mother this Mother's Day.
Love Box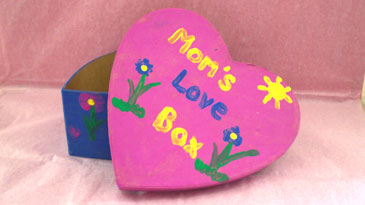 Materials:
Newspaper
Acrylic paint
Small trinket box
Paper Plate
Other decorative items
Paintbrushes
Directions:
Lay newspapers over your work area in case of spills.
Lay out colors of paint you want to use on a paper plate.
Paint box with any messages, designs and colors you want.
Add any ribbons, stickers, glitter, or other items to the box once paint is dry.
Give to your mother on Mother's Day for her to keep special items in.
Was this article helpful?
Thank you for your feedback.