Business Rules for Meeting and Greeting
Learn the proper etiquette for meeting and greeting others in a business setting.
Business Rules for Meeting and Greeting
Very definite rules apply to the various aspects of meeting and greeting people in the corporate culture. Your mother was right when she gave you that advice about first impressions.
Standing
Mind Your P's and Q's
Keep your drink in your left hand to avoid giving someone a wet, cold handshake. Don't rock or sway. Handshaking is not a tango.
If you don't rise to the occasion, you will sink in the estimation of others. Everyone should stand when being introduced. At one time women remained seated when new people arrived on the scene, but not nowadays. However, when newcomers arrive at a very large function, they are greeted only by those nearest them. If it is impossible for you to rise—if perhaps you are wedged behind the table—at least lean forward or rise slightly so as not to appear distant.
When someone comes to visit at the office, stand and come out from behind your desk unless the visitor is a coworker or someone who comes into your office frequently in the course of the day. The frequency consideration comes into play even when a senior executive visits the office of a junior executive. If it's a common occurrence, there's no need to get up; however, you should certainly stop what you're doing and give your full attention to the senior executive whenever you're in his or her presence.
Shaking Hands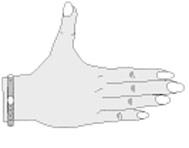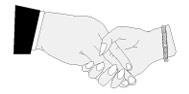 A handshake leaves a very definite and often lasting impression, and in the business world a handshake is the only truly appropriate physical contact for both men and women.
The proper shake …
Involves eye contact
Is firm but painless
Lasts about three seconds
Takes only two or three pumps
Starts and stops crisply
Doesn't continue through the entire introduction
Keep your fingers together and your thumb up. Slide the web of your hand all the way to the web of the other person's hand. Otherwise, he or she ends up shaking hands with your fingers. Also, shaking web to web effectively prevents the other person, no matter how strong, from crunching your knuckles.
You shake when …
Someone offers his/her hand to you
First meeting someone
Greeting guests
Greeting your host/hostess
Renewing an acquaintance
Saying goodbye
Hugs and Kisses
In general, hugs and kisses are inappropriate in any business environment. In fact, touching others in the workplace, whether they are of the same gender or not, is impolite even if you feel that the other person is your pal. This stricture includes patting someone on the back, putting your arm around someone, or putting your hand on his or her shoulder.
It is acceptable at a business/social function to kiss your spouse, if you happen to be getting along that day. Even then, keep it casual and cursory.
Was this article helpful?
Thank you for your feedback.