Pin-Pricked Paper Heart Card
With just a few simple steps you can make a Valentine's card that is an impressive craft!
Pin-Pricked Paper Heart Card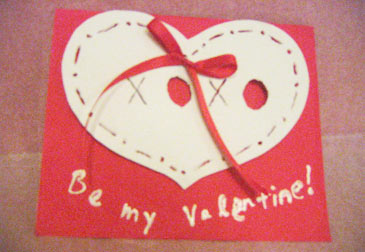 Materials:
Fairly stiff white paper (lamp shade paper works well; get it white on one side, colored on the other)
Red construction paper (or other kind of paper)
A sharp needle or piercer (like a small skewer)
glue (optional)
Directions:
Draw or make a template first and trace around a heart for your basic outside shape.

Create a simple pattern. Embroidery books can give you some ideas. You can draw this freehand or create one pattern and trace it at even intervals.
Use the utility knife to make straight and curved cuts (this should be done by an adult); use the needle or skewer to pierce holes. Make sure to go all one way from back to front of the surface you want to show.
On straight lines that have been cut, use the needle to raise one edge of each line open to a slit. On curved lines, use the needle to roll the curve to the inside and open it up so the card color will show through.
Glue baby's breath, other dried flowers, or small silk flowers to the back of your heart, so they extend out the top.
lue the pierced heart to a card of contrasting color (white on red is nice), putting glue on the outer edges only. Glue a small bow to the top.
Write a message on the front and inside.
Do not flatten. Deliver your card in a small box.
Was this article helpful?
Thank you for your feedback.