Heart-to-Heart Valentine's Wreath
Follow these simple instructions to make a Valentine's Day wreath out of ribbon and lace.
Heart-to-Heart Valentine's Wreath
This simple Valentine's Day wreath would make an elegant decoration for your home or a perfect gift for a friend or relative.
Holiday Hints
You could change the look of the lace heart wreath by using dried roses and baby's breath in the center as decorations instead of hearts and satin roses. You also might want to try making a grapevine heart-shaped wreath by wiring eucalyptus branches and dried or satin flowers around the wreath and topping it off with a satin bow.
Festive Facts
Laces and ribbons probably became a symbol of love stemming from the days of knighthood. Knights would go into battle carrying a piece of ribbon or lace given to them by their beloved ladies.
Level: Moderately easy
Time involved: One to two hours
Materials:
25-inch piece of pre-gathered, 2-inch-wide lace
25-inch piece of 18-gauge jewelry wire
10- or 12-inch wood dowel
Red craft paint
Paintbrush
Bag of pink, white, and red foam hearts
Glue gun
Bunch of pink, white, and red satin ribbon roses (the 1/2-inch size)
Thin red satin ribbon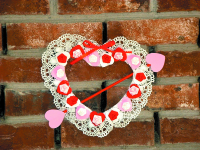 Thread the lace onto the wire, in and out of each hole at the inside edge of the lace. If you don't have gathered lace, you can use straight lace and gather it in place along the wire. Make sure the lace lies flat when placed on a hard surface. Bend the ends of the wire together and form a loop out of one of them for hanging purposes. Keeping the loop in the center, bend the wire into a heart shape.

Paint the dowel with red craft paint and allow it to dry. Thread the dowel through the heart from side to side on an angle. The dowel will keep the wire and lace heart from bending out of shape. Glue a foam heart on each end of the dowel, keeping the pointed side out for the tip of the arrow and the curved side out for the end of the arrow.

Glue pink, red, and white foam hearts around the middle of the heart on top of the wire base. Glue a contrasting color of satin rose on top of each heart. The hearts should be big enough to show beneath the roses (approximately 1 inch).

Make a small bow out of the satin ribbon and glue it to the top of the heart.
Was this article helpful?
Thank you for your feedback.