Carbon Transfer Cards
Create this special Valentine's card with carbon paper for a unique look.
Carbon Transfer Cards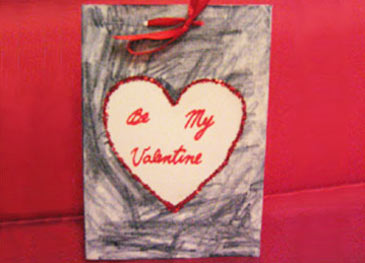 Materials:
Rub-on transfers and Popsicle stick, or packs of paper cutouts and white glue (found in craft stores)
Blank note card and envelope (You can buy these in packs at craft or stationery stores.)
Hole punch
Matching thin satin ribbon
Fine tipped marker
Directions:
Use a rub-on transfer to create a design on the card by placing the design centered on the front with the tacky side down. Rub the transfer with a Popsicle stick until it is completely transferred to the paper. Gently lift a corner of the transfer off the paper. If there are areas that aren't transferred completely, rub again with the Popsicle stick until transferred.
If using cutouts, glue a random pattern of paper cutouts on the front of the card. I've used Christmas cutouts for Christmas greetings, hearts for Valentine's Day, and everyday shapes such as leaves, musical notes, flowers, and so on for everyday greeting cards.
Using the hole punch, make two holes in the front center top of the card. Thread the ribbon through the holes from the back to the front and tie a bow in the ends, so the bow is on the front, top of your greeting card.
Write your message inside the card and place in the envelope. If desired, decorate the envelope with matching transfers or cutouts on the back flap or front left side.
Was this article helpful?
Thank you for your feedback.