Accordian-fold Crazy Card
Your child can create a crazy accordian-style card to give to someone special this Valentine's Day.
Accordian-fold Crazy Card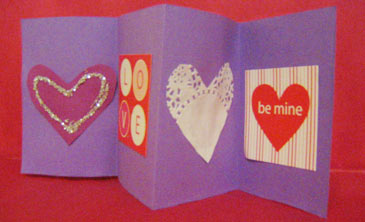 Materials:
Index Cards (unlined), plain white ore colors
Old magazines, catalogs, advertising inserts
Glue
Heart Stickers
Red ribbon to wrap it up, or an evelope and more stickers!
Cellophane Tape
Directions:
Cut phrases out of the catalogs and magazines, and combine them on the page to make love messages. The more you love this person, the longer and crazier the card can be.
When one card is full, you add another by joining cards by taping a full-length "seam" across the back.
When you have said all you want, you can place stickers on it for more decoration.
The card folds up small, accordion-style.
Tie up your card with a red ribbon, or place in the envelope with more stickers, and give it to that special someone.
Was this article helpful?
Thank you for your feedback.