Shamrock Rubbings
For St. Patrick's Day, your toddler can place a piece of paper over a sandpaper shamrock and make a crayon rubbing of the design.
Shamrock Rubbings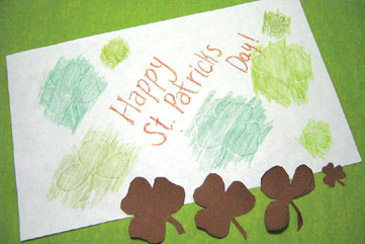 Materials
Sandpaper
Scissors
Crayons
Paper
Directions
Cut shamrock shapes out of sandpaper. Use different grains of sandpaper and cut the shamrocks in several different sizes.
Tape the shamrocks to a table.
Show your child how to place his paper over the shamrock and rub with the side of a crayon to get a Saint Patrick's Day design.
Was this article helpful?
Thank you for your feedback.