Arts and Crafts Activity: Paint-Glue Relief
This creative craft is a great gift for kids to make mom on Mother's Day.
Paint-Glue Relief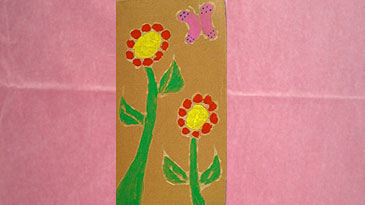 Materials:
Heavy paper such as tag, chip or cardboard
White glue in a squeeze bottle
Tempera or acrylic paint
Paintbrushes
Paper plate to put paint on
Directions:
Using a pencil, lightly sketch in a design or picture on the heavy paper. Remember to keep it simple, no small, tiny details.
Squeeze a fine line of glue straight from the bottle onto the pencil lines. Let the glue dry thoroughly.
Paint inside the picture or design with tempera or acrylic paints. Keep the colors bright and thick. Cover all areas of the paper. Stay within the original lines and don't worry about the glue lines. If necessary, paint over them.
Was this article helpful?
Thank you for your feedback.