Dip and Dye Eggs
This preschool art activity results in classic and complex Easter egg designs.
Dip and Dye Eggs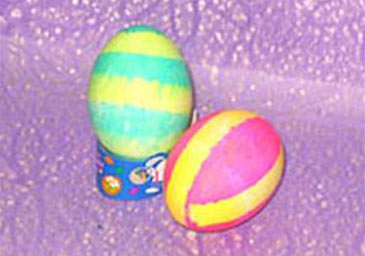 Materials
Hard-boiled eggs
Masking tape
Egg dyes in a variety of colors
Slotted spoon
Cooking oil
Soft cloth
Directions
Stick a pattern of masking tape on hard-boiled eggs.
Dip them in a natural or commercial egg dye and leave them until they reach the desired color.
Remove the eggs with a slotted spoon and allow them to air dry.
Remove the masking tape when the eggs are completely dry.
Leave the masked areas white, or dip the eggs again in a lighter dye.
Polish the finished eggs with a small amount of cooking oil and a soft cloth.
Was this article helpful?
Thank you for your feedback.