Harriet the Spy
Learn about and discuss this monumental children's book.
Harriet the Spy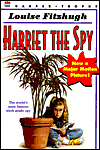 Author: Louise Fitzhugh
Publisher: HarperCollins Children's Books
Harriet M Welsch, otherwise known as Harriet the Spy, is an 11-year-old aspiring author. Her life in Manhattan gives her plenty to write about, and Harriet follows a strict spy route each day to carefully watch and record people's lives. She writes down everything she sees in her notebook, which is very private and ALWAYS at her side. That is until one day, when it ends up in the hands of her classmates!
Upon reading her observations, Harriet's classmates turn against her, and her life is turned upside-down. Everyone hates her, even her best friends. Her classmates have formed a spy-catcher club and Harriet gets a taste of her own medicine -- and doesn't like it -- when they start writing about her! Their revenge is almost intolerable to Harriet, who begins to act out her rage by refusing to go to school. Her recovery from this disaster involves some screaming, some hugging, a very funny trip to a child psychologist, and a lot of growing up.
Upon its arrival to bookshelves in 1976, many adults criticized Harriet the Spy for it's openness, but young readers enjoy the honesty of the story. Readers will understand and connect to the trials and tribulations of Harriet's sixth-grade life. Your kids will love this story for it's humor and wit. You'll love it because in the end, Harriet the Spy teaches important lessons about honesty, friendship, and growing up.
Was this article helpful?
Thank you for your feedback.