Napkin Holder
Follow the instructions in this art activity to create a beautiful napkin holder using clothespins, paint, and glue.
Napkin Holder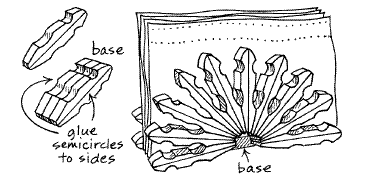 Materials
23 spring-style clothespins
Paint and paintbrush
Craft glue
Clear acrylic spray
Directions
Have your child pull the clothespins apart and discard the springs.
Glue the smooth sides of the pieces in each pair together.
Let the glue dry.
Lay three pairs on a flat surface so that their sides are touching and glue them together.
Let the glue dry. This will be the base of the napkin holder.
Sort the remaining pairs into two sets of ten.
Arrange each set in a semicircle with the pointed ends touching in the center.
Glue the parts that are touching and press them together. Let the glue dry.
The two semicircles will be the sides of the napkin holder.
Apply glue to the two long outer edges of the base.
Press the bottom of one semicircle to each side. Let the glue dry.
Let your child paint the napkin holder.
Finish it with clear acrylic spray.
Was this article helpful?
Thank you for your feedback.