15 Harmless April Fools' Day Pranks to Play on Your Kids
Check out our favorite Pinterest-inspired April Fools' jokes to play on your kids. How will you fool your child on April Fools' Day?
We love playing silly (and harmless!) pranks on our kids on April Fools' Day! Check out our favorite Pinterest-inspired April Fools' jokes to play on your kids. If your kids love a good laugh, then this is a great way to get the whole family involved. How will you be pranking your child on April 1st?
More: The 60 Best Dad Jokes of All Time
April Fools' Day Pranks to Play on Your Kids
Frozen Cereal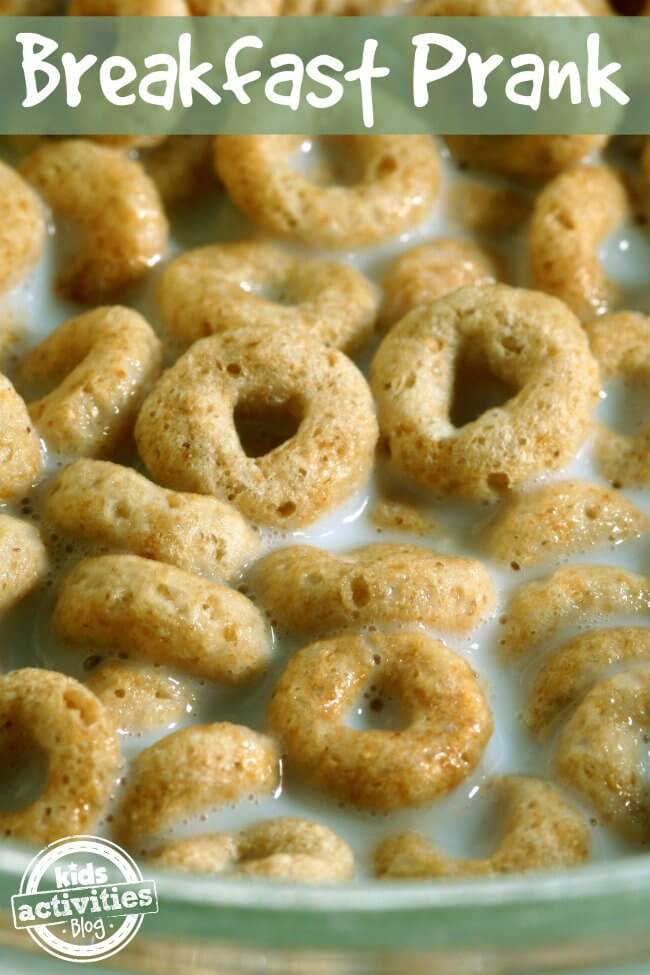 It may take a bit of pre-planning, but this trick is worth it! Fix a bowl of cereal the night before and stick it in the freezer so it's frozen when breakfast time rolls around the next morning. Before serving your kids, splash a little milk on top to hide the frozen cereal underneath. For an added bonus, freeze the spoon in the bowl, too!
Get the directions for Frozen Cereal from Kids Activities Blog.
Cupcakes for Dinner
Who doesn't love a special dinner treat? Your kids will be pumped to find a cupcake on their plate for dinner and will definitely think you're the coolest parents. That is until they discover it's meatloaf baked in a muffin pan and topped with mashed potatoes! Still a delicious dinner, but not quite the pastry they were anticipating.
Get started on a new parenting journey
Subscribe to our free newsletters to become an inspired, supported and informed (or expecting) parent. We help every step of the way.
Solid Milk
You only need three ingredients for solid milk: powdered gelatin, water, and milk! Mix the gelatin and water, and let it stand for five minutes. Warm two cups of milk in the microwave and stir in the gelatin mixture. Transfer your "milk" to a glass pitcher, and let it set in the refrigerator for about two hours. Offer your child some milk at breakfast or when he gets home from school, and watch as he tries to pour himself a glass.
Get the directions for Solid Milk from Wonder How To.
Balloon Pillow
Balloons make great pillows, don't they? Blow up several balloons about halfway, so they are soft and hard to pop. Fill a pillowcase with the balloons, and make sure to leave your child's bed looking the way she left it. When she gets in bed for naptime or bedtime, she'll be treated to a silly surprise! (Note: this prank is better for older kids who won't put balloons in their mouths.)
Get the directions for Balloon Pillow from Kids Activities Blog.
Brown "E" Brownies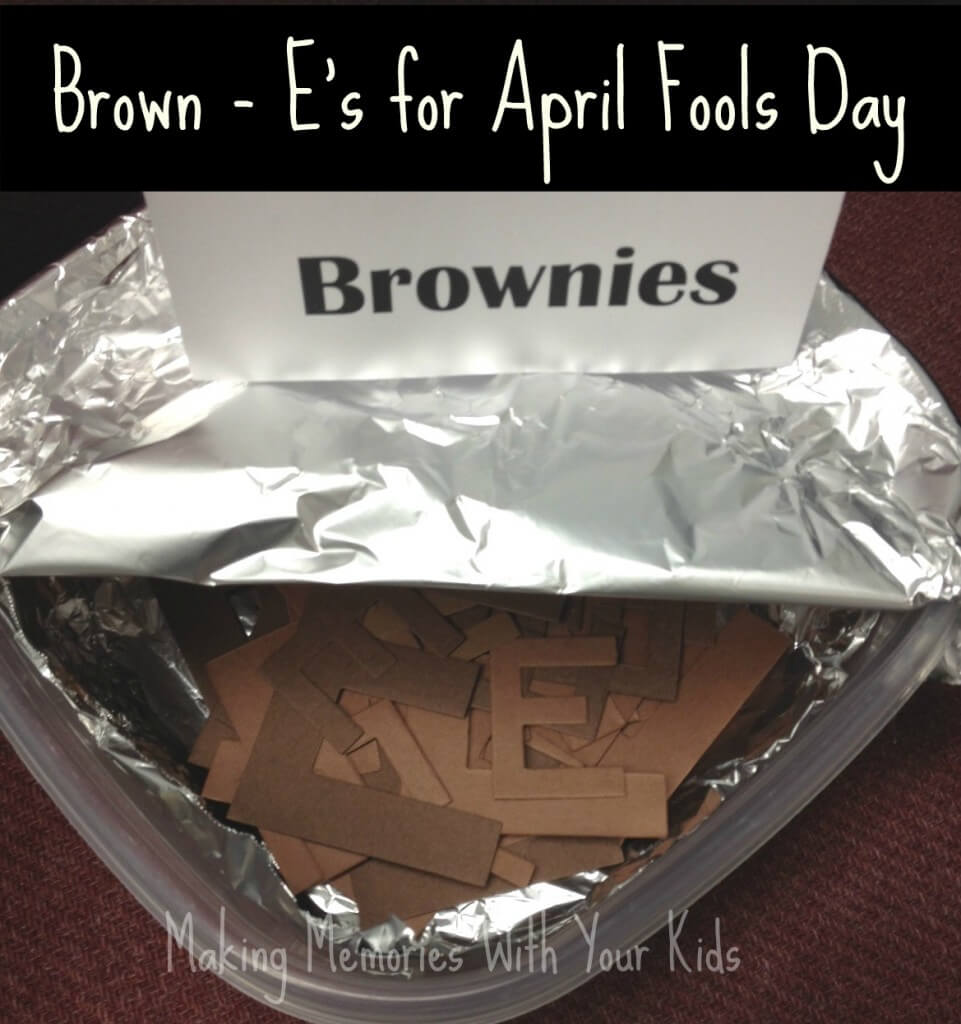 Treat your kids to a sweet treat after school with some brownies (or should we say, Brown "E"s!) Using brown construction paper, cut out several letter Es. Put them in a baking pan and cover them with foil. When your kids ask for a snack, offer them the covered pan and tell them to help themselves!
Get the directions for Brown E Brownies from Making Memories With Your Kids.
"Eye" See you!
Put googly eyes on everything in the house. The refrigerator, light switches, doors, TV, etc. If you're kids head off to school, add googly eyes to the things in their lunch box. There's nothing like sitting down to lunch and finding a juice box staring at you! Your kids will feel like they're being watched all day!
Solid Juice
Prepare some jello the night before, pour it into a clear glass, add a straw and allow to solidify in the fridge overnight. The next day, offer your kids a glass of juice. They'll be tickled when they realize it's solid and they can't drink anything! Whip out a spoon and enjoy a jello snack as you laugh together.
Bubble Wrap Surprise
Add some bubble wrap to spots you know your child will step on. Under rugs, bath mats, or even to the bottom of their shoes. They won't know what's coming when they step down and hear loud popping!
Colored Water
Whether it's a colored tab under the faucet or a few drops of food coloring in the toilet bowl, your child will go bananas when the water flows a different color. Bath Dropz or Easter Egg Dying Tabs are a harmless way to change water color without staining appliances or hands.
Buggy Surprise
Hide plastic bugs in your kid's things so they keep getting a creepy-crawly surprise! Carseat, lunch box, toy box, silverware drawer, etc. Throughout the day they're sure to take a couple of double takes and you might hear a surprised scream or two! Just don't scare yourself when you stumble upon one of these realistic looking bugs.
Toilet Paper Message
Unroll the toilet paper and write a funny message for your unsuspecting kids. Roll it back up, and the first person to use the bathroom will get a fun surprise. This is a simple way to get a good laugh out of your kiddos with this easy April Fools prank. They may even get creative and want to leave a message for the next bathroom visitor.
Toothpaste Switch
Swap out your kid's toothpaste before they brush their teeth. You can pre-load their brush with frosting or food coloring gel. Or if your kids are independent brushers, put a tube of something else in place of the toothpaste. See if they fall for it, or notice the difference right away!
Whoopee Cushion
A good old-fashioned whoopee cushion is an all time favorite of April Fools Day pranks. Hide one under a couch cushion, your child's favorite spot to sit, or even the car seat. Get ready to be pranked yourself as your child will surely return the favor.
Cereal Swap
Swap the bag out of the box of your kid's favorite cereal with something a little less appealing. Imagine their surprise when they go to pour themselves a big old bowl...and the wrong cereal comes pouring out! Swap it back before a major meltdown ensues and the smiles are sure to stick around.
Short Sheet at Bedtime
Bring a summer camp tradition into your home. Make your child's bed when they're not looking, and fold the sheet for a "short sheet" experience. When your child climbs into their bed that night, you'll get one more laugh as they realize they can't climb all the way under the covers!
We hope you loved these April Fools' Day pranks as much as we did!
Looking for other ways to make your kids laugh? Check out Our 10 Favorite Easter-Themed Pranks for April Fool's Day.
Was this article helpful?
Thank you for your feedback.