From Delightful to Frightful: 4 Halloween Decor Ideas for All Tastes
From very un-scary to downright spooky, celebrate the spirit of Halloween with a decorative landscape that reflects your spot on the scare spectrum.
Autumn is the time to fall into holiday decor, with Halloween boldly leading the way to an abundance of seasonal decorating. When it comes to your Halloween decorating style, are you a "happy harvester," "horrifying haunter," or somewhere in between? First, take this quiz from Remax to find out. Then, put a thrilling twist on the traditional, and celebrate the spirit of the season with a decorative landscape based on your spot on the scare spectrum. Make your own Halloween magic with these four options for affordable decoration tricks and treats.
Pumpkin Spice Patch: Very Un-scary
Bored of orange and black and more into a boo-tiful harvest than an abundance of blood? Add some pizzazz to your pumpkin patch by putting down the carving knife and picking up the craft supplies.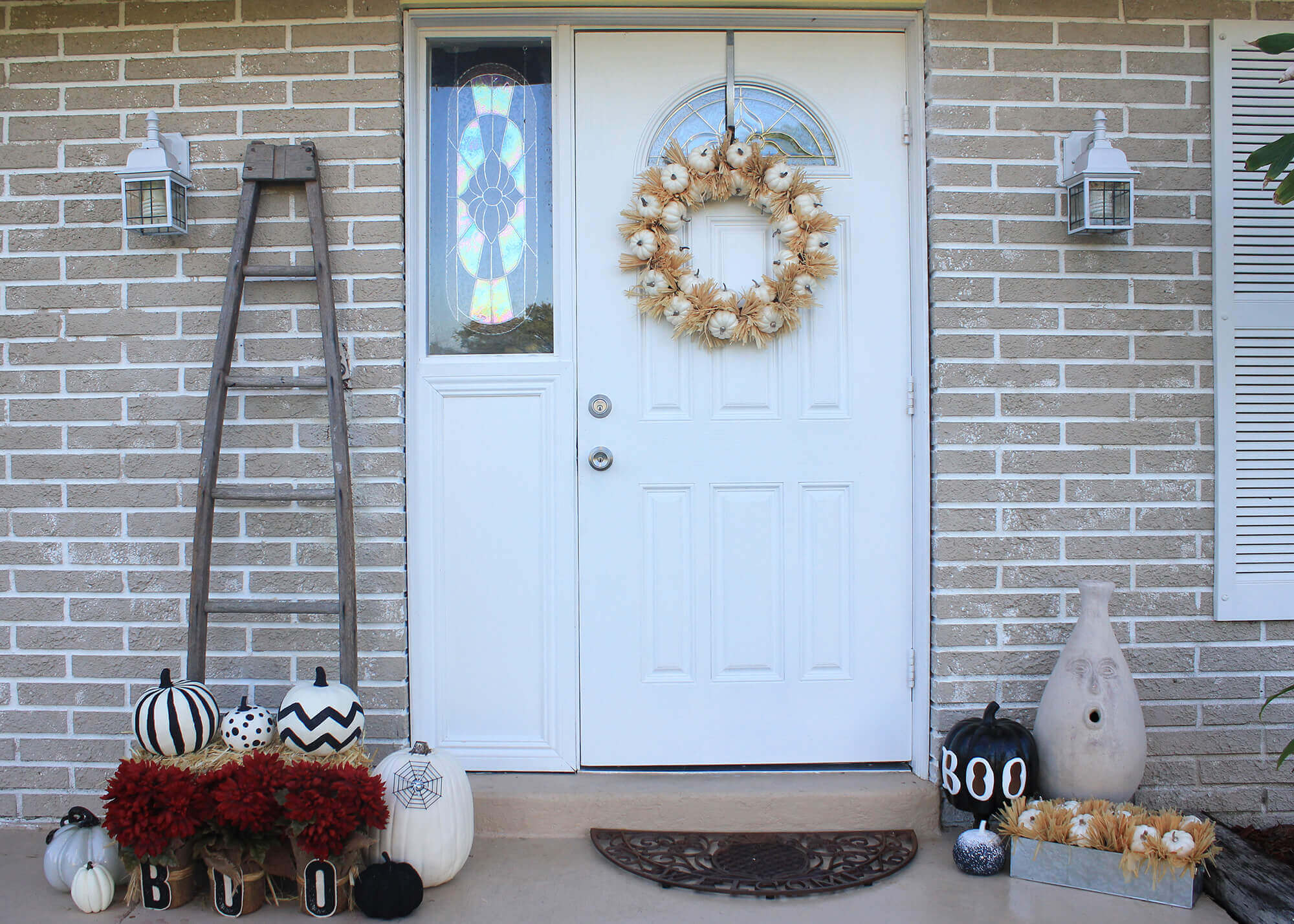 Skip the scraping and scooping of seeds and break out the paint, glue, glitter, stickers and temporary tattoos instead. Start by choosing a unique color palette that coordinates with the area you'll be decorating — neutrals with a pop of color will make it easy to tie your look together. Once your pumpkins are painted, add a pattern by applying tape, round stickers or stencils in a contrasting color. Temporary tattoos and stickers are an easy way for little helpers to add visual interest without the extra mess. Go full-on Cinderella-style by adding glue, glitter or sequins for a glint of glamour.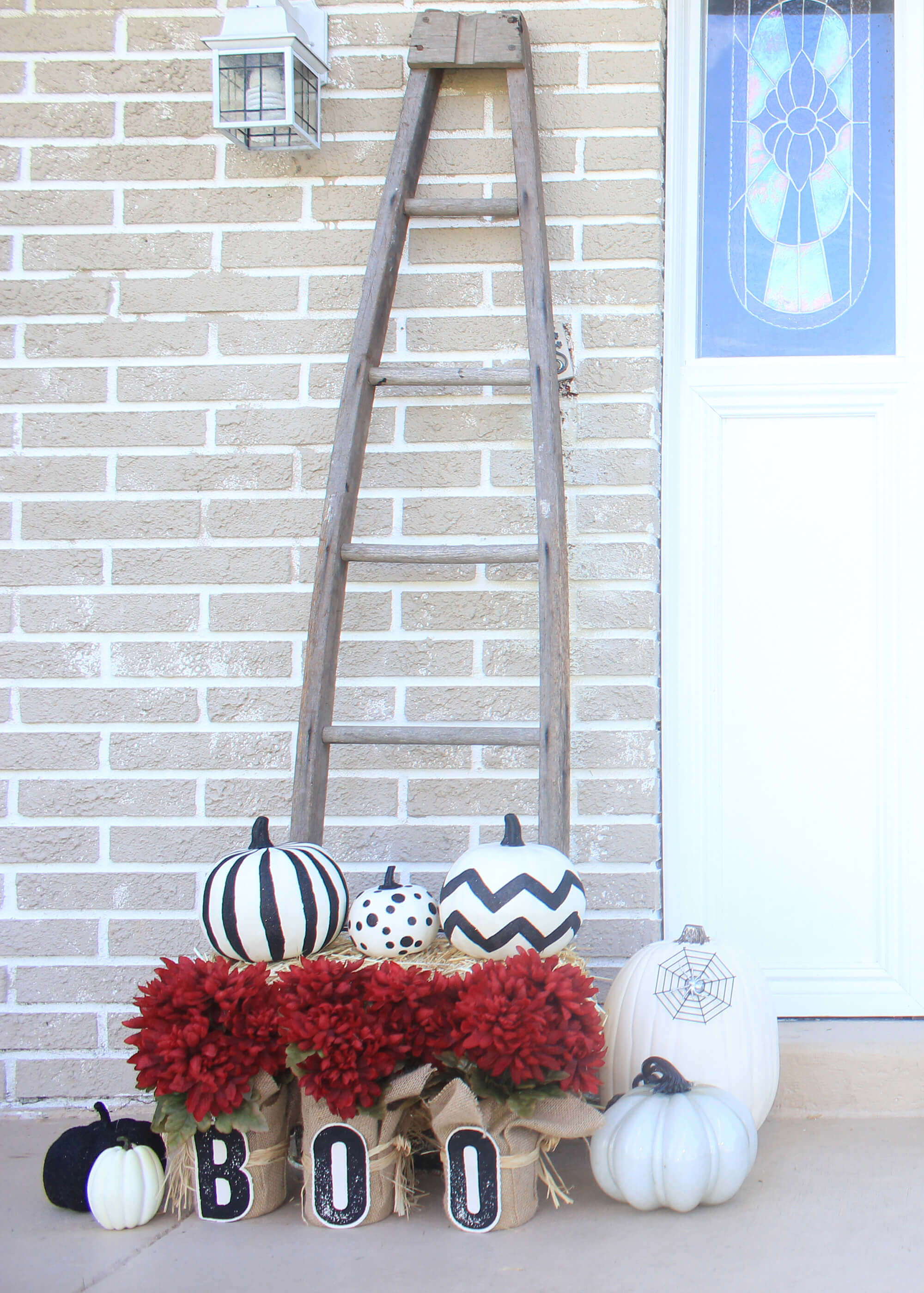 Boo-It-Yourself: Make your decor pull double duty by adding a decorative detail that can be removed for continued use through fall. Using a stencil and acrylic paint, paint a Happy Halloween message one letter at a time onto canvas, and adhere to flower pots with double-sided tape for personalized and versatile decor.
Treat to Make It Extra Sweet: If you're using real, uncarved pumpkins in your display, give them a quick polish with floor wax before setting them out — not only will they shine, they'll stay fresh for up to four weeks.
Dr. Frankenstein's Apothecary: A Fun Fright
If dark humor and creativity appeal to you more than guts and gore, experiment with your own front porch apothecary. Mix up some silly, spirited fun with special ingredients to create a catalyst for an intriguing evening.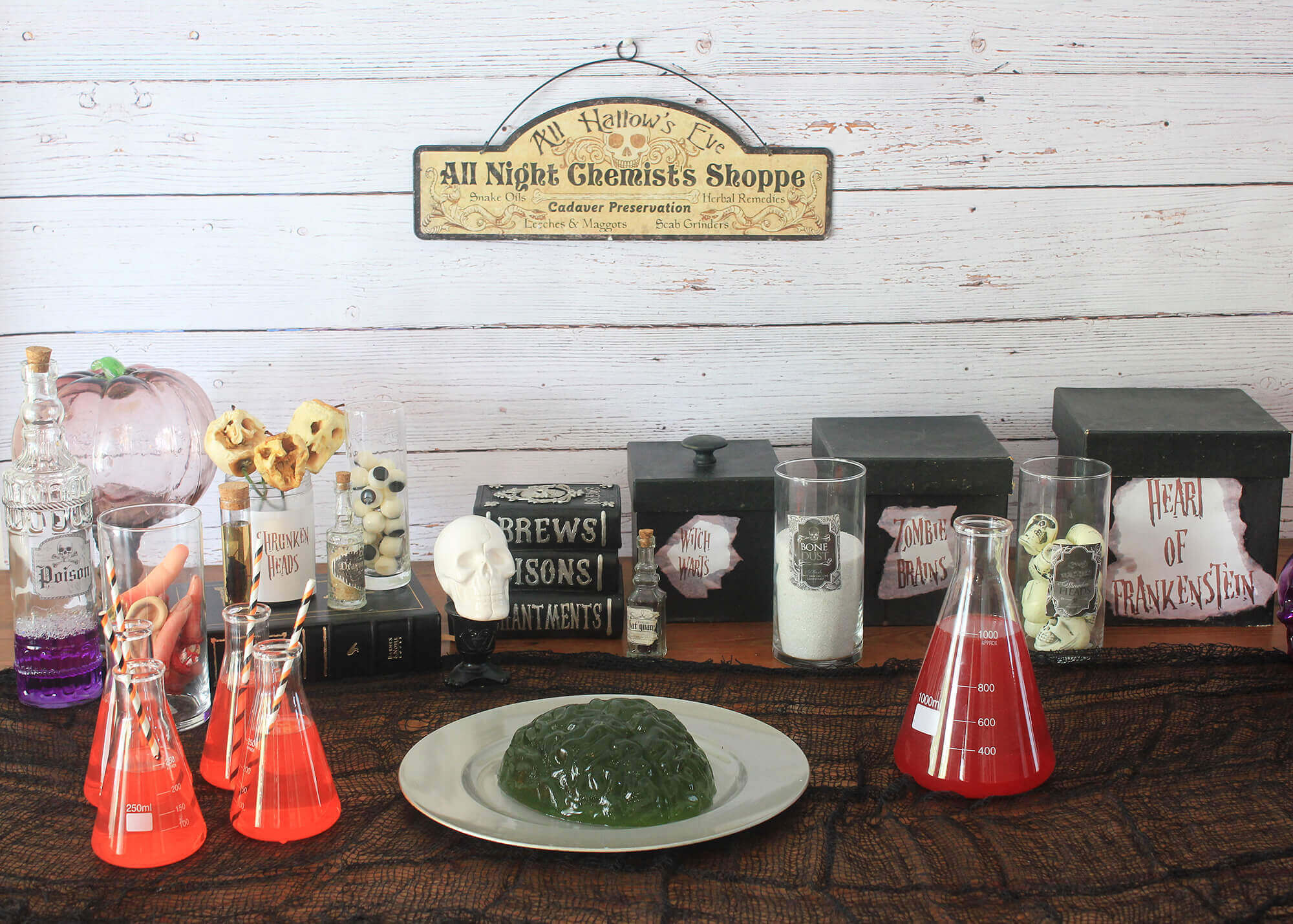 Channel your own Dr. Frankenstein and make science spooky by collecting random glass containers and filling them with creepy-looking items reminiscent of body parts, glowing potions, mysterious poisons and icky oddities. Print your own labels and get creative — rice doubles as snake fangs, chocolate chips are perfect for bat guano, and sugar is an acceptable substitute for bone dust. Serve beverages in beakers and test tubes for extra authenticity, and a cauldron full of dry ice with a punch bowl nestled on top can keep drinks chilled while looking chilling.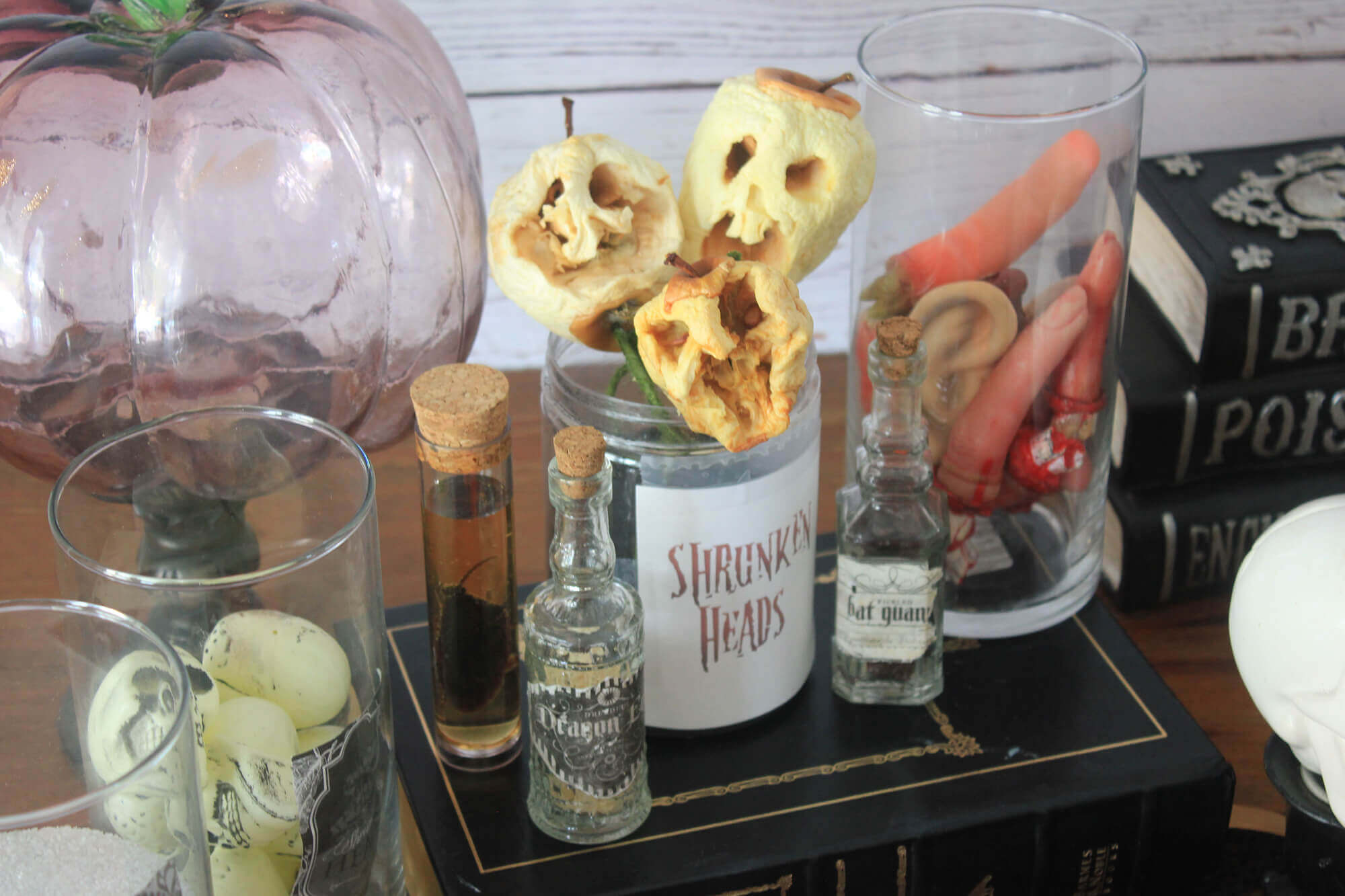 Boo-It-Yourself: Make your own spooky shrunken heads for a freaky non-floral centerpiece. Peel an apple before carving a face with exaggerated features into its flesh. Soak the apple carvings in a mixture of lemon juice and salt for 30 minutes and place them in a warm, dry spot for a few days for maximum shrinkage. Impale on floral wire and show off your headhunter skills with pride.
Treat to Make It Extra Sweet: Add a sensory element of silly scariness to your evening with a thrilling and chilling touch table. Fill black boxes with things like gelatin for Frankenstein's heart, raisins for witch warts, and cold, mushy pasta for zombie brains, and invite guests to blindly guess which horror lies inside through touch alone.
Ghoulish Graveyard: Bone-Chilling Scene
If you like a good thrill and tend to get dark with your Halloween decorating, the night sky is the limit. Bring fun and fear together with a spirited cemetery people will be dying to see.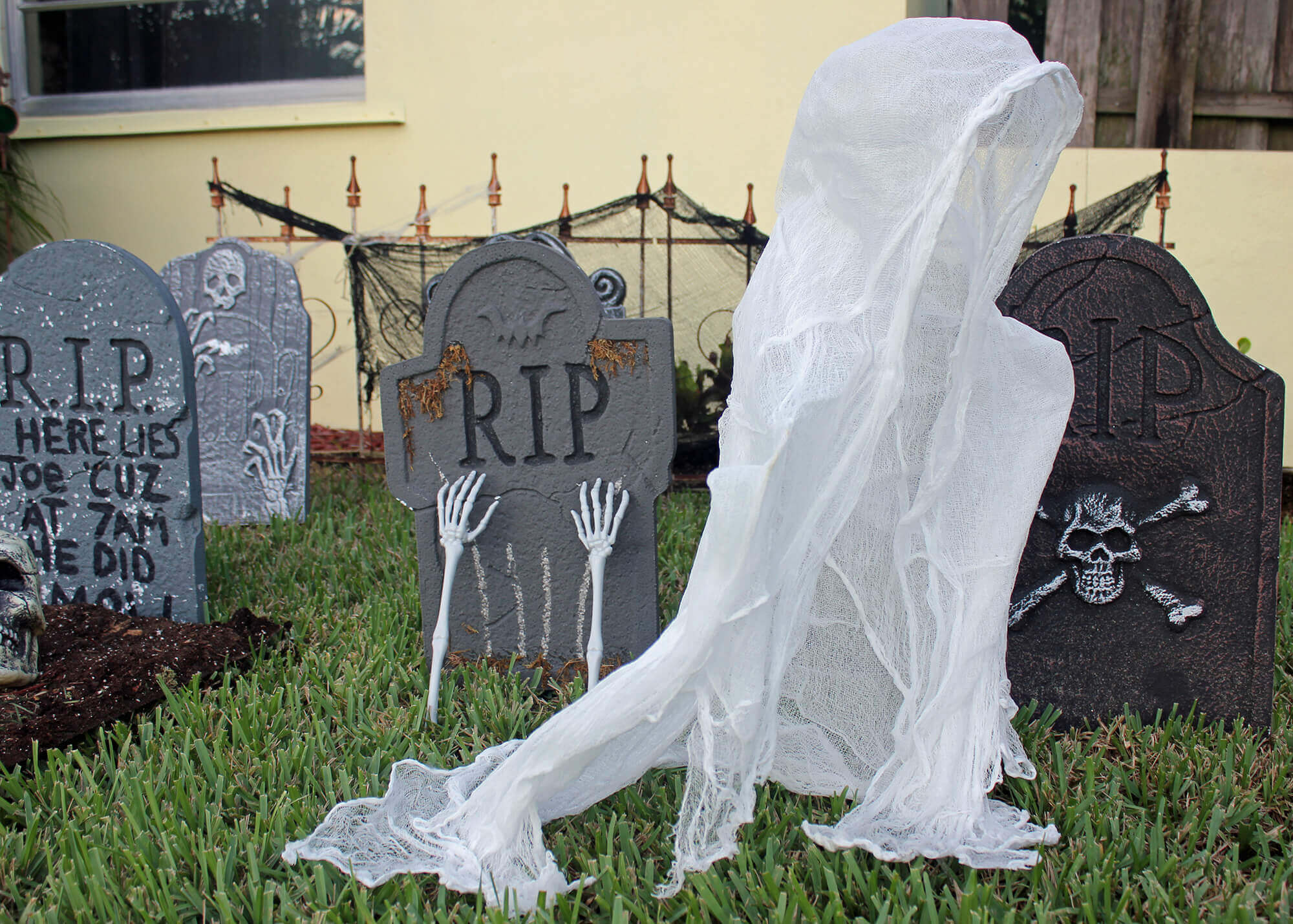 A graveyard is a pretty common Halloween scene, but you can add new depth and bring your dead to life with details. Soak a brown towel in spray adhesive and sprinkle on layers of soil, mulch and grass for a fresh burial plot — making it that much easier for the undead to claw out. Personalize store-bought tombstones with affectionate epitaphs intended for friends and neighbors. Up-lighting and a fog machine on a timer set to go off at regular intervals can also add atmosphere without a lot of effort.
Boo-It-Yourself: Make your cemetery supernatural with ghastly ghosts. Dip long strips of cheesecloth into a bowl of liquid starch or fabric stiffener before draping it over a 2-liter bottle, or similar form depending on desired size, with a Styrofoam ball on top. Allow to dry overnight before peeling the scared-stiff specter off of the form and into your graveyard.
Treat to Make It Extra Sweet: Spray-paint cardboard toilet paper rolls black, cut eye shapes into them, insert a glow stick, and stash creepy peepers around your yard for an affordable, evil touch.
Murder Mystery Mansion: A Bloody Nightmare
Some people like to help put the horror in Halloween by taking things to the extreme. Add terror to your typical haunted house by transforming your back porch into a murder mystery mansion for a dinner party of darkness.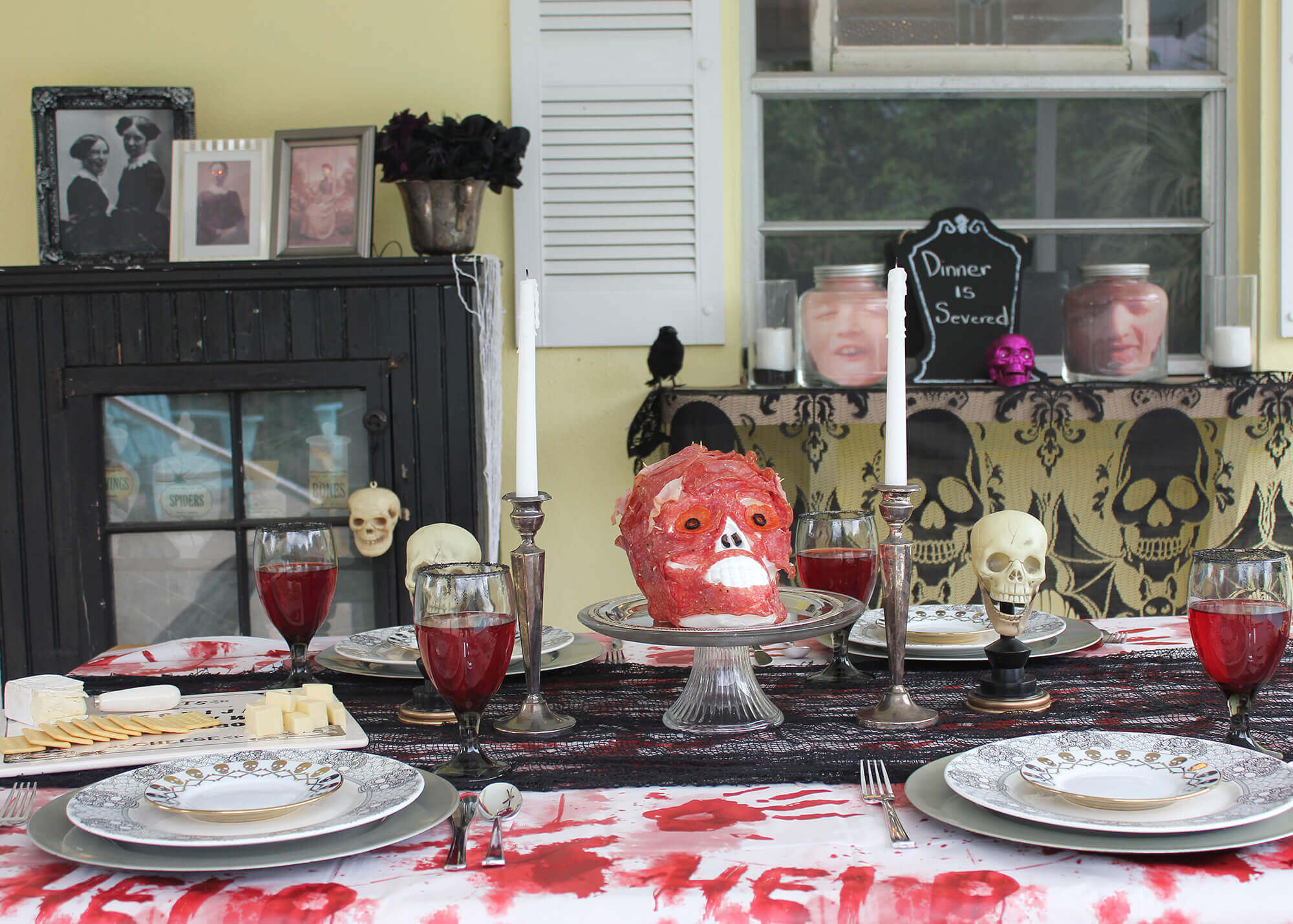 Go for gothic elegance by setting your table with tarnished silver, skull-encircled china, and black sugar-rimmed goblets filled with blood-red juice. Keep it creepy with a tablecloth streaked with messages from your last dinner victims…er, guests. Take your display to killer level of surreal by laminating "dead face" photos of your family and inserting them into glass jars full of murky fluid to show that you've truly lost your heads for Halloween.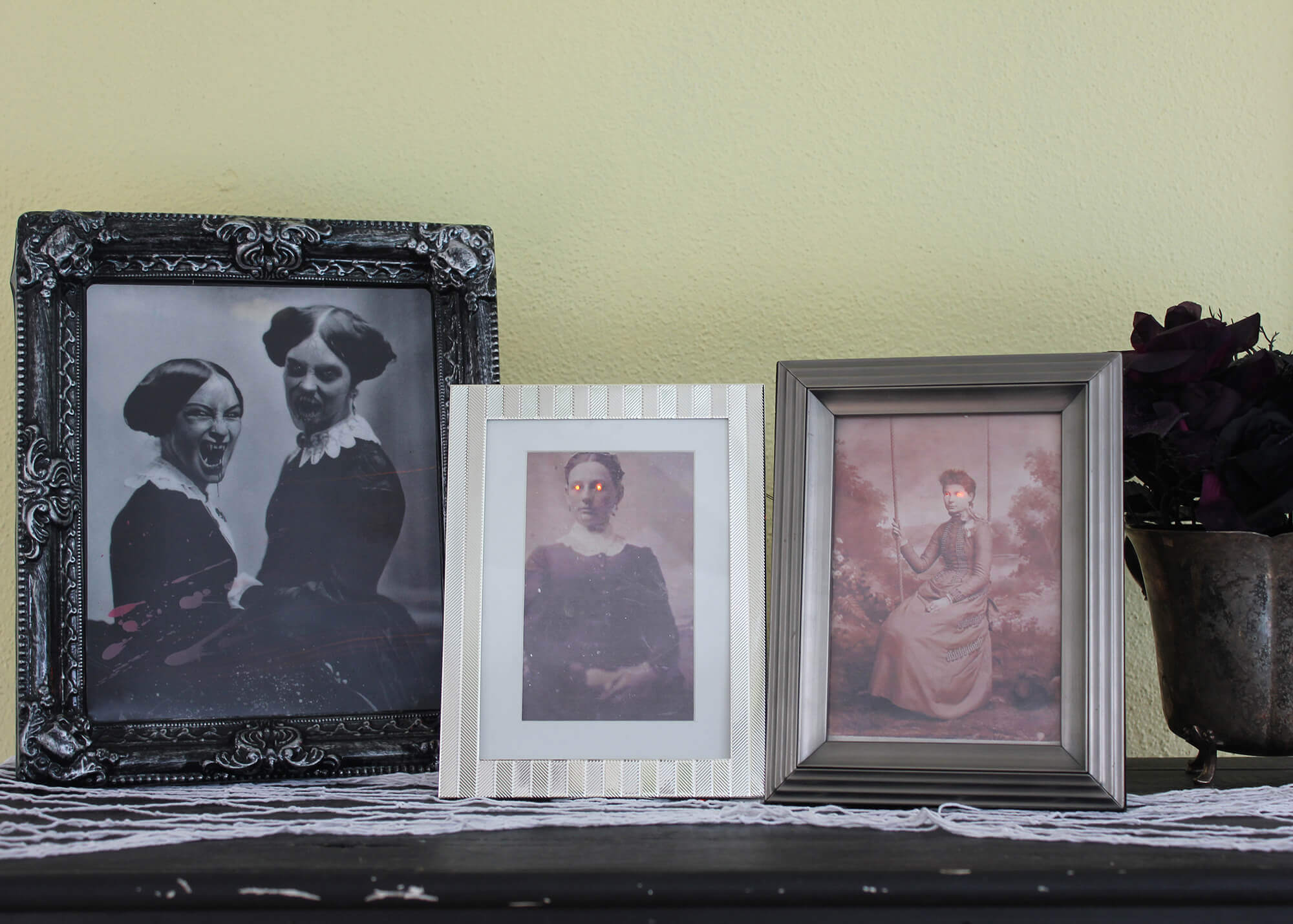 Boo-It-Yourself: Print old-fashioned black and white family portraits onto card stock, and then carefully poke the eyes out with a toothpick. Tape micro LED lights through the eyes for an unsettling gaze. Tape the portrait into its frame and cover the exposed back with loosely draped spider webs or black netting.
Treat to Make It Extra Sweet: Make the main course a head served on a silver platter. Create a creepy charcuterie display by covering a Styrofoam skull in a cap of saran wrap before adding a variety of thinly sliced meats pierced with toothpicks to make your cold cuts chilling.
Whatever your level of scare, think outside of the Jack o' Lantern and try bringing these new tricks and treats to your Halloween style this year. Whether you're looking for a family-friendly night of fun, or a way to bring nightmares to life, Halloween is a great time to make your decor both frightful and delightful.
Ashley McCann is a blogger who made the list of "100 Women Bloggers You Should Read," published by Ignite Social Media. Ashley writes on Halloween yard decoration and other topics for The Home Depot. For a wide variety of indoor and outdoor Halloween decor, including styles discussed by Ashley, you can visit Home Depot's website.
Was this article helpful?
Thank you for your feedback.
About the author
FamilyEducation Staff
This writer is a part of the FamilyEducation editorial team. Our team is comprised of parents, experts, and content professionals dedicated to bringing you the most accurate and relevant information in the parenting space.