Handmade Four-Leaf Clovers: Art Activity for Kids
This St. Patrick's Day art activity is fun you and your little one. Learn how to make some lucky shamrocks with your child in ten easy steps.
Handmade Four-Leaf Clovers: Art Activity for Kids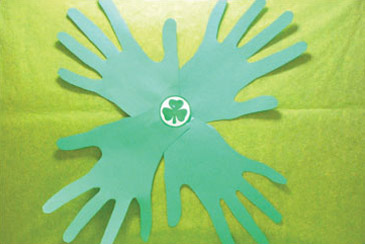 Age: Preschool and kindergarten
Time: An hour or more
Type of activity: Arts and crafts activities for kids
Celebrate St. Patrick's Day by making your own lucky shamrocks.
Materials needed:
·
 Pencil
·
 Scissors
·
 Glue
·
 Green construction paper (Four sheets per shamrock)
What to do:
Step One: Have your child place her hand flat on a sheet of construction paper.
Step Two: Trace her hand using the pencil.
Step Three: Repeat this three more times, so that you have four hand patterns.
Step Four: Help your child cut out each of her hand patterns.
Step Five: Cut out a rectangle from the construction paper for your shamrock's stem. Help your child write her name or a short message on the stem.
Step Six: Arrange the handprints so they meet in the center. Space them out so that they look like leaves.
Step Seven: Once you have the "shamrock leaves" in place, glue them together.
Step Eight: Let the glue dry.
Step Nine: Now, glue the stem to the bottom of your shamrock leaves.
Step Ten: Now you can make a wish on your four-leaf-clover!
Was this article helpful?
Thank you for your feedback.