Bird Feeder
This easy-to-make bird feeder requires only peanut butter, a pinecone, and some bird seed.
Bird Feeder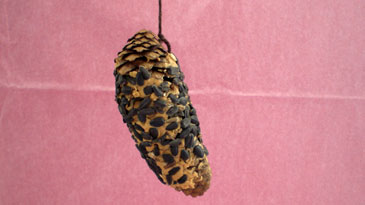 Materials
Pine cone
String
Peanut butter
Knife for spreading
Bird seed
Directions
Make your own bird feeder with peanut butter, a pine cone, and bird seed.
Tie a string around the top of the pine cone under the ridges, so the string stays in place, and knot it, leaving enough string for hanging.
Thoroughly cover the pine cone with peanut butter, then roll it in bird seed.
Hang the feeder outside near a window and your child can watch the birds eat.
Was this article helpful?
Thank you for your feedback.