10 Ways to Breathe New Life into Your Family Photos
Find some tips to digitize images, and help breathe some new life into your online photos!
Digitizing your old family photos is an exciting project, but did you know you can do more with them than just post them online or save to a USB? Read on to find some tips to better share your pictures and help breathe some new life into your online photos! By now, most of your family and friends are on Facebook sharing tidbits of their lives and thoughts. Wouldn't it be fun to imagine what your family's Facebook would have looked like 60 years ago? You don't need a fancy program like Photoshop to replicate a Facebook post with your old photo. This photo was created in PowerPoint!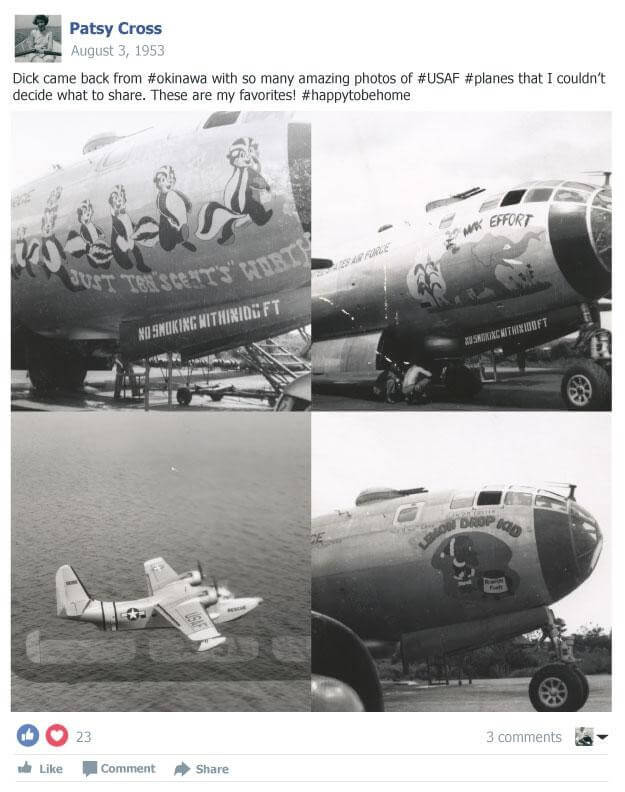 To start, gather some of your favorite old photos and scan them on your home scanner. If you're making a book or a card, use a professional to get a high-quality scan.
Once you have your digital photos, download the PowerPoint template. To begin using the program, start by changing your profile picture. To do this, double-click on the small square image next to your name and in your tool bar, choose "Change Image." Upload the photo you've chose for the profile. Follow these same instructions to change the profile picture in the bottom right for your commenter.


Now the really fun stuff — the photos and text! Click on the large square image and "Replace Image" with your first photo.
All of the text, except "Like, Comment, Share" is editable. To change the date, just double-click on it. For example, you can reflect the date this old wedding photo was taken by backdating to the actual wedding date.


You can edit your description by double-clicking as well. When writing your description, think about what you'd see for a similar picture if it was in your newsfeed today.
For example, this photo was taken to commemorate an important event, and would likely use a trending hashtag and a more detailed text description. You're highlighting your old photos in a very modern way, so don't worry about making your text seem vintage. Keep it fun and relatable!


Now you've changed the date, added a photo, and written a catchy description. What about the likes and comments?
Double-click on the number next to the heart to manually change the number of reactions. You can also enlarge the text box and add family names. Try utilizing fun hashtags to reflect fun family gatherings and special occasions.


To manually edit or delete comments, highlight the small square and choose "Replace Image." Double-click to change the number of comments, and enlarge this box to add a number of shares.
For example, imagine this as the first color photo ever shared. It would naturally garner a "Wow!" reaction and more comments! There is a slide that includes the "wow" reaction in your template.


Now that you've made your first card, your possibilities are endless! To create a new post, start by selecting the slide you are working on. Find the "Home" tab and click on "Slides." Click the arrow next to "New Slide," and select "Duplicate Selected Slide." Now you have an exact replica of the slide you just finished, making it easy to adjust your next photo!


Next, think about the reactions you'd like to get on each photo, and choose the template that best reflects that. You can choose between just likes, likes and a heart or likes, a heart, and a "wow." If you're having trouble deciding which slide to use, try thinking about the reactions you get on your newsfeed for similar photos.


As you're working with your photos and descriptions, think of popular hashtags like #throwbackthursday and #photooftheday. These hashtags can help highlight how similar social media could have been 60 years ago, but your photos will show how different!


When you're done with all of your cards, consider making a Facebook album to share with friends and family or using them to create a one-of-a-kind birthday or anniversary card. A photo book is also an amazing way to display your cards alongside other family photos you've had digitized.


Eric Niloff is the co-founder and CEO of EverPresent, a team of 40 scanning technicians, digital organizers, designers and editors based in Newton, Massachusetts. Eric and his team help thousands of families every year to digitize, organize and share their family photos and videos. Eric writes and advises on how to make family history preservation part of family events, estate plans and other family moments.