Colorful Coffee-Filter Holiday Ornaments
The best holiday ornaments aren't the store-bought ones -- they're the ones your kids make with their own two hands! This holiday season, use markers, pipe cleaners, and glitter to dress up ornaments your child can make at home for Christmas or Hanukkah!
Colorful Coffee-Filter Holiday Ornaments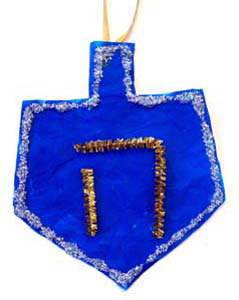 Age: Preschool through elementary
Time: 30 minutes or more
Type of activity: Arts and Crafts

Kids love love making ornaments at home. This holiday season, use colorful markers, glitter, and pipe cleaners to dress up ornaments your child can make right in your kitchen!
Materials Needed
· 2 to 3 white coffee filters
· Gold, silver, or other colorful thin cord
· Markers
· Glue
· Glitter
· Pipe Cleaners
What to Do
Step One: Cut out various holiday shapes (about 2 inches long) from the coffee filters. Shapes can include stars, trees, wreaths, Santa Claus, Rudolf, a snowman, or other Christmas symbols. Hanukkah shapes can include a Star of David, menorah, dreidel, or other Hanukkah symbols.
Step Two: Color the shapes with markers. The coffee filters absorb ink very well, so your child will be amazed at the vibrant colors. Once the ink is dry, decorate the ornaments with glitter and pipe cleaners. Feel free to improvise by using felt, googly-eyes, or other decorating materials you may have lying around the house.
Step Three: Cut pieces of cord into 6-inch strips.
Step Four: Paste the cord in a loop behind the top of the ornament.
Step Five: Hang the ornament on your tree or doorway to help decorate your home for the holidays.
Was this article helpful?
Thank you for your feedback.