My boys love cheese crackers, but I don't love some of the ingredients in the average cheese cracker box. This easy recipe is far from low-fat, but for a special treat (Thanksgiving perhaps?), these cheese straws are an all-natural alternative for anyone's cheese cracker craving. This recipe calls for the mixture to be piped into little "straws," a fun and novel way to serve this tasty little snack. Homemade Cheese Straws 3 tablespoons butter, cubed 8 ounces cheddar cheese (preferably sharp), cubed 1 cup all-purpose flour ½ teaspoon baking powder 1/8 teaspoon cayenne pepper (optional, but does not make these overly spicy) 1/4 teaspoon salt 3-4 tablespoons milk Preheat oven to 400 degrees. In a food processor, combine the butter, cheese, flour, baking powder, cayenne pepper and salt.
Pulse several times until the mixture resembles coarse sand:
While the food processor is spinning, slowly add the milk, one tablespoon at a time until the mixture is the consistency of frosting, sort of like this:
Place the mixture in a plastic bag and cut off one corner of the bottom of the bag, creating an opening about ½ inch thick. Slowly pipe the cheese mixture in 3-4 inch straws on a baking sheet lined with parchment paper or a Silpat Liner. Bake for 5-7 minutes or until the edges are brown. Let cool completely and remove from the sheet. Makes approximately 2 dozen straws.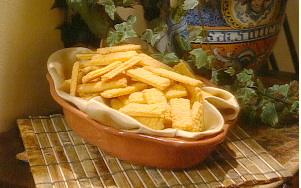 A great special treat, just in time for the holidays. In fact, I had a former co-worker who used to make her famous cheese straws and wrap a bunch beautifully with a bow and give them as Christmas presents. SPC