Congratulations to DebbieLBenoit!  You are the lucky winner of this giveaway.
***This giveaway is no longer accepting entries***
Hey all you new moms out there-- we're having a contest sponsored by BornFree, and we think you've going to love it!
BornFree specializes in developing and manufacturing baby feeding products that feature a natural flow that's closer to breastfeeding, tummy conscious ActiveFlow™ venting technology that's clinically proven to reduce colic, and naturally safe materials that are free of BPA, PVD and phthalates.
So what's the contest?
Well, we want to know what your mommy must-haves are! We know how overwhelming being a new mother for the first time can be, and when it comes to our registry, you just want the safest, trusted and convenient products available. So we're wondering-- what baby product(s) were your mommy-must-haves that got you through your baby's first year?
Leave us your answer as a comment on this blog post, and in exchange for your input from one mom to another, you'll be entered for a chance to win our giveaway.
Wondering what the prize is? It's pretty great, if you ask us.
We're giving away some products from BornFree!
The winner will receive:
One twin-set of BornFree 5 oz. Eco Classic Bottles ($28.99)
And one BornFree Toddler Cup Trio ($34.99), which includes one soft spout Training Cup, one hard spout Drinking Cup, and the new Twist'NPop™ Straw Cup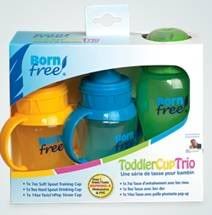 So, to enter, simply leave us a comment on this blog post, telling us what products you absolutely couldn't live without during your baby's first year.
Please remember to do both-- otherwise you might miss your chance to win!
All entries must be received by 12pm EST on Monday, October 31, when we'll randomly select and contact the lucky winner.
Let's recap to make sure you know exactly what you need to do to try to win:
PRIZE: One twin-set of BornFree 5 oz. Eco Classic Bottles and one BornFree Toddler Cup Trio ($64 value!)
TO ENTER: Comment on this post telling us your mommy must-haves.
GIVEAWAY ENDS: Monday, October 31st at 12pm EST
NUMBER OF WINNERS: One
PRIZE SHIPS: United States
RULES: One entry per e-mail address is permitted. The winner will be selected using random.org and announced on Monday afternoon as an update to this post.
Good luck!!