Well, no. Johnny's not here because he's dead. And now so is Ed McMahon. That's right, Ed McMahon kicked the bucket last night. :( That's okay. He was old and had a long and successful life. He will be missed very much. Especially by those who didn't receive their American Family Publishers checks.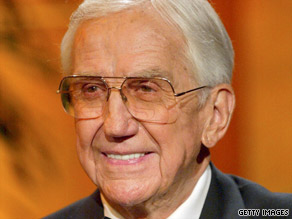 A little slice of knowledge that Wikipedia taught me was that Ed McMahon and Dick Clark were spokespeople for American Family Publishers, often confused with Publishers Clearing House. Either way, they still handed out free money, money, money...MONEY!
McMahon
passed away at the Ronald Reagan/UCLA Medical Center. He was 86 years old. He had suffered a number of health problems including pneumonia in February and a neck injury caused by a fall in 2007. Most will remember Ed McMahon as Johnny Carson's sidekick on "The Tonight Show", but he is also known for his work on "Star Search," "TV's Bloopers and Practical Jokes," and the game show "Who Do You Trust?" in 1957. This boisterous funny man will always be remembered as everyone's favorite sidekick. Rest in peace, Eddy.