Moving to a new house is tough but when you have a book to help explain all about it.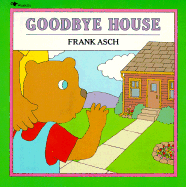 Goodbye House by Frank Asch
is a great reminder for parents that kids get a lot of security from the familiar and may need to say goodbye to it before moving on. Little Bear is moving to a new house in the book and before they leave the empty house he tells his parents he's forgotten something. As he goes through the empty rooms it turns out that he simply forgot to say goodbye. At first reading I thought this was rather sentimental but when I read it with my son I saw it's magic. Great book.
Berenstain Bears Moving Day
Is a childhood favorite of mine. Originally published in 1981 this is one of the great Berenstain Bear books that catapulted these characters into the franchise they are today. It's a great book. It addresses all the worries, all the realities and all the changes that happen when a family moves. I moved a lot as a child and I give this book a big thumbs up for preparing me for what was ahead.
It's Moving Day by Pamela Hickman
is a cute book about one forest burrow that cycles through a number of animals as they hibernate and emerge season after season. What I like about this is that it shows children that it's not just them that move animals do too!