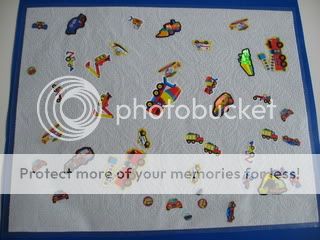 I can never have enough placemats. Between arts and crafts, play-dough , meals and snacks they get dirty fast. This is a fun activity that allows your child to choose their favorite stickers and turn it into a placemat just for them. Don't tell them but they are also giving their fine motor skills a good work out, by peeling and placing the stickers on the paper towel.
1.
Gather your materials. You will need a piece of paper towel, stickers, scissors, a rolling pin and contact paper.
2.
Give your child the paper towel and stickers and have them cover the paper towel to their hearts content. My son chose vehicles, but any stickers will do.
3.
While they are on sticker duty, cut a piece of contact paper big enough to fold over the paper towel. Do not take the baking off yet.
4.
Encourage your little artist to cover the whole thing by spinning the paper towel around so empty spots are within reach.
5.
When they are done, fold your contact paper in two, creating a crease. Peel back the paper to the crease only and lay the paper towel on it face down. This will make sure there are no bubbles in the plastic. Peel the rest of the backing off and sandwich the paper towel .
6.
Using a rolling pin smooth and press the contact paper together.
7.
trim the extra contact paper on the edges leaving a 1/4' - 1/2' border. Don't forget this can be used for more than catching stray morsels of food, you can count the stickers, ask your child to find a certain color, play eye spy... the possibilities are endless!