Halloween has taken us completely by surprise this year. I don't know what happened, but we're just not as ready as we have been in the past. Last year by this time we had carved the pumpkins, made our toasted pumpkin seeds, eaten our toasted pumpkin seeds, completely decorated the house and yard, and bought our candy for the trick-or-treaters. This year we have the pumpkins, but we haven't carved them yet, and I certainly haven't made the seeds or bought any candy, and the house and yard still need some tender, loving Halloween care. Part of the problem, I think, is that we normally use the weekend to get things done, but we traveled last weekend. Also, I keep thinking that Halloween is on Saturday and have to remind myself that no, actually, it's THIS FRIDAY!
I'm getting nervous. I love Halloween, and I like to throw ourselves into it early, reading spooky tales to the children, lighting candles at night, and turning the front yard into a creepy, spider-web-strewn graveyard. I love making pumpkin pies and simmering cider, and sending the kids out for sticks to make gnarled witch's brooms and skeletons. I love the school parties and crafts, which is why I signed up (for what must be the sixth year in a row) to help out with the Halloween party at T.'s preschool. When L. was three and I was almost six months pregnant with T., I spent an entire morning cutting out peanut butter sandwiches with a pumpkin-shaped cookie cutter, assembling lunches, and glue-gunning each bag closed with a pretty Halloween ornament. Several hours later, sick to death of the smell of peanut butter (literally--remember, I was six months pregnant) and with my fingertips still tingling from glue gun burns, I vowed I would never, ever take on too much for a preschool party again.
Fast-forward to yesterday, when I rushed home from the grocery store at 4:00 p.m. with the kids, unloaded everything, and promptly began making this recipe for Halloween whoopie pies with T.'s help and only an hour to spare. I've been thinking about those whoopie pies for about a week and a half now, and somehow got it into my head that they would be absolutely perfect for T.'s Halloween party. Well, you know those baking projects where you start out happily, thinking the whole thing will be pretty simple, and then as you go along you suddenly find yourself elbow-deep in cocoa powder and spilled butter and you can't get your trays out of the oven fast enough and there's nowhere to put them and you just can't see the end in sight? Don't be deluded by the apparent simplicity of this recipe! And don't, whatever you do, allow your four-year-old to operate the electric mixer when cocoa powder is involved. Your kitchen will end up looking like this: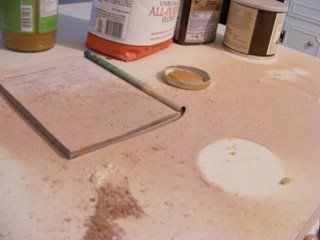 And it will seem funny for about five seconds, until the dog springs into action and begins to lick up all the cocoa powder everywhere, so that what could have been easily vacuumed away ends up in smears of wet chocolate and paw prints all over the floor.
And then some of Tray 1 of whoopie pies burns because you can't clean up the floor fast enough.
The filling in the whoopie pies looks deliciously white and creamy in the recipe's picture (thanks, Martha Stewart) but when I mixed up mine, it came out looking sickly yellow instead, like this: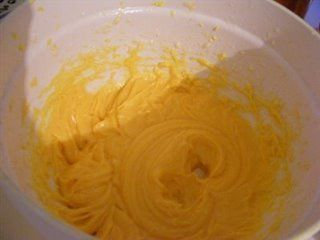 In a wave of desperate genius, I decided to squeeze some orange food coloring into the bowl, which worked out wonderfully, considering it's Halloween. But I threw out the first batch of filling because I thought the sickly yellow was the result of my stubborn determination NOT to use butter but to use a fake-me-out alternative instead. When the second batch of filling with real butter still remained sickly yellow, I decided to take things into my own hands and use the food coloring. When I make these again, though, I think I might bypass mixing my own filling and use whipped vanilla frosting instead--it tastes about the same, and would have that light and white fluffy quality that I just couldn't get.
I also forgot that sprinkles and kids just don't mix well, and that maybe I should have taken the whole operation out onto the screened-in porch.
I'll also remind myself, if I ever do this again, that making enough of these to feed 16 kids and 6 adults is quite an undertaking. Really. Even though I doubled the recipe, and even discounting the few burned ones because I was busy trying to clean the floor, I was still short FOUR pies. I was in despair, and contemplating a trip to the store for cupcakes made by someone else, when my husband, who is the voice of calm and practical reason in our marriage, suggested that the whoopie pies were bigger than the average four-year-old's mouth anyway, and that we should cut them in half. So my beautiful whoopie pies that first looked like this: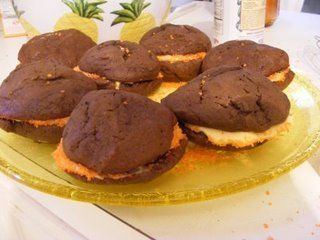 ended up looking like this: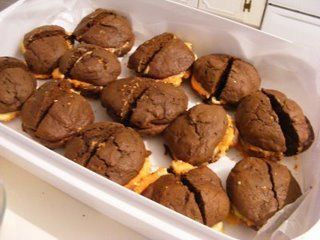 But despite all the drama, and the 45 solid minutes it took me to clean up the kitchen, I would definitely make these again. They are absolutely delicious--the cake/cookie part is perfectly thick and soft, the cream inside light and sweet, and they taste just like I thought they would--which kind of made up for the cocoa paw prints on the hallway rug, and my aching back.