Four years ago today, I left our local polling place, pushing ten-month-old T. in her stroller, with four-year-old L. beside me. I distinctly remember (as if it were yesterday, really, and not four years ago) telling L., "Next time we vote, you'll be EIGHT and your sister will be FOUR!" It seemed almost unimaginable to me, my four-year-old boy being eight some day, and my baby, who at that time was only four months post-surgery, being a great big little four-year-old girl. I was so proud that day to take both kids to vote, but I was even more proud of L., who at four was already asking tough question about the electoral process, and who seemed genuinely interested in it all.
Just yesterday, driving home from work with T., I heard some quoted statistic on NPR about how kids whose parents are involved in the election process are very likely to grow up into adults who care about their votes. This absolutely makes sense, in the same way it makes sense that anything we expose our kids to is likely to make an impact on them some day. I remember both my parents being incredibly involved in past elections, and I can still hear Walter Cronkite's voice, and then Dan Rather's, echoing out from my parents' old television, tinny ghosts of elections past. We've tried hard to involve the kids in the excitement of the election. We've made sure to hold dinnertime political discussions, and not save them all for after the kids are in bed. I've explained the electoral college to L., learning a little myself along the way (I've written before about what numbers tend to do to my brain), and T. has invented her own game in the car, shouting out the yard signs she sees along the way. And it's been important to discuss where the candidates stand on the issues so L. at least understands that it's not so much about the people as it is about the issues. I won't pretend we haven't shared our own strong opinions with them, but we've been careful, I think, to explain our objections and preferences, in ways that hopefully make sense to them.
I think elections are exciting and thrilling, and great learning opportunities for kids. I think they are also moments when we, as parents, are charged with acting like adults, and seeing past any petty and narrow biases and preconceptions we might have. They provide us parents with a powerful and rare teaching moment, and even a small child can learn a great deal from going along with their parents to the polling place. I think it's also important to make the day a day to celebrate, regardless of how you vote and who you believe should win. We should celebrate the right to vote and the freedom it brings us, and this wonderful and powerful legacy we can give, as a gift, to our own children. Today I'll take both kids with me to vote. We'll stand in line and soak up the atmosphere. I'll let L. feed the ballot into the metal machine again, as he's done before, and then we'll head off for a pizza dinner--the kids excited, and me trying hard not to think about how four years from now my L. will be TWELVE, and T. will be EIGHT.
*************
It's been a tradition at our house for a few months now to bake something special for each presidential debate. So we ate our way through a chocolate debate cake, and a vanilla bean debate cake, and rice pudding in the crock pot. For tonight I baked marshmallow-topped chocolate cookies, from a recipe a friend emailed me last fall, which I promptly forgot about until this past weekend, when I literally dropped my recipe folder on the floor and the page fell out--a sign from above, I think. After I made the cookies I thought, these don't look too festive--and I whipped up some icing glue (just mix confectioners sugar with a little water until you get a sweet paste), spread a little on the marshmallow tops, decorated them with blue and red sprinkles, and we had instant festive election day cookies. These are super easy to make, and would also be perfect for a certain July holiday.
Marshmallow-topped Cookies (or Election Day Cookies)
1/2 cup butter or my favorite butter substitute, softened
1 cup sugar
1 egg
1/4 cup milk (I used plain soy milk and it worked great.)
1 teaspoon vanilla extract
1-3/4 cups all-purpose flour
1/3 cup baking cocoa
1/2 teaspoon baking soda
1/2 teaspoon salt
about 12 large marshmallows
In a large mixing bowl, cream butter and sugar together. Add egg, milk, and vanilla; mix well. Combine the flour, cocoa, baking soda, and salt; beat into creamed mixture.
Drop by rounded teaspoonfuls onto ungreased baking sheets. Bake at 350° for 8 minutes. While the cookies are baking, cut marshmallows in half. After 8 minutes, press a marshmallow half, cut side down, onto each cookie. Return to the oven for 2 minutes. Cool completely on a wire rack. When the cookies are cooled, spread a little sugar glue onto each marshmallow half and top with sprinkles.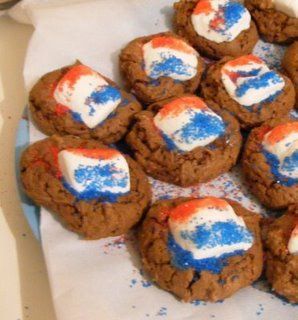 How are you planning on spending your election day? What are some ways you involved your own kids in the election process?