Yesterday we hosted the family Christmas gathering for Scott's side of the family. I made lots of vegan food, and didn't tell anyone what it was. I've found that announcing things as vegan--or vegetarian--to die-hard, life-long meat-eaters just predisposes them against it, no matter how yummy it tastes. I like to take people by surprise. Once they try something I've made, and exclaim about it, then I'll reveal the "secret."
Sometimes the experiment falls flat, as it did this past Thursday, when we had our good friends L. and P. and their kids over for dinner. At the last minute I decided to put out a hunk of vegan cheese, alongside "regular" cheese. I admit it was almost a joke on my part (my friend L. appreciates a good cheese). Would they notice? Would they say anything? I've known L. a long time, and we are way past being nice just for the sake of politeness; still, I saw her eat the cheese and, thoughtfully, walk away without comment, a strange expression on her face.
I follwed her into the dining room. "So what did you think about the cheese?" I asked.
"Which one?" 
"The really orange one."
She made a face. "It wasn't bad," she said, searching for the right words. "But I thought it was sort of...bland."
It WAS bland. Really bland. You just can't find a substitute for cheese, and there's no point in even trying.
But you can find substitutes for all sorts of dairy-related animal products, like eggs, cream cheese, butter, and even sour cream, and the results are, I think, happy and satsifying. For our party on Sunday I decided to make a vegan spinach dip. You kow the simple, classic kind: sour cream, a packet or two of dry salad dressing mix, frozen spinach, and seasonings. I am not a huge fan of Tofutti sour cream, but I have discovered that if you mix it with the right things it tastes just fine--more than fine, sometimes. 
Here's what you'll need:
Nutritional yeast, 1-2 packets of Simply Organic salad dressing mix (or another vegan brand), Toffuti sour cream, and whatever seasoning you might want to add.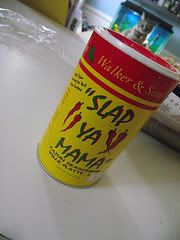 A couple of months ago my mother-in-law brought this back from New Orleans and it's my new favorite seasoning on just about everything: steamed veggies, roasted potatoes, salad, and now this spinach dip. Plus the name is priceless, and the kids have still not grown tired of giving me a friendly bump whenever they see the canister on the counter.
Vegan Spinach Dip
1-2 tubs of Tofutti sour cream (I used two tubs, since I was cooking for a crowd)
1 1/2 tablespoon nutritional yeast
1-2 packets Simply Organic salad dressing mix (I used two packets, again for a crowd)
2 cups frozen spinach, thawed. I used frozen and it took forever to thaw, until I left the dip out for an hour. I would recommend taking the spinach out of the freezer and letting it thaw before you mix it in.
Seasoning to taste
Just mix it all together! It couldn't be easier, or more delicious, and the best part? No one noticed it was vegan.