Best present ever for a ten-year old boy: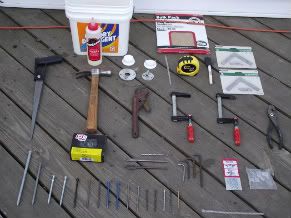 I couldn't take a picture of the pile of wood L. got to go with all the cool tools and screws and sandpaper and bolts and a real, actual (sharp) saw, but it was quite a pile. My father-in-law's partner, who is a talented architect, artist, and craftsman, spent years single-handedly fixing up a Washington, D.C. home in the heart of Capitol Hill. He built in lots of mysterious nooks and crannies, and hidden panels. When we were there years go, before the downstairs bathroom was finished, he let the kids draw doodles and write notes, which he then stuffed inside the wall before he sealed it up. I love the idea of the bones of that house containing something from my children, and the thought of a house itself being a time capsule.
Of course, all homes are living time capsules in a way. We live in them. We grow in different ways inside their walls. Our children leave their marks on the floors and doors; if you walk through an empty house after you have moved out (or before you move in) you can feel, almost palpably, the memories crowding around you.
When I was in elementary school, I made a time capsule with my sister. I don't remember everything we put into it, but I remember digging a hole and burying the box and being so excited at the thought that we would both be grown-ups when we opened it again. Unfortunately, we didn't mark the spot where we buried the memory capsule and I have no idea where to look for it. If my dad ever gives us permission to take a shovel and dig up a huge section of the backyard we might find it some day.
Best playground in Washington, D.C.:
This one, a block from the Capitol Hill house. The kids love all the unusual rope structures for climbing, and I love how incongruous the setting is. If you stand and look past the playground you can see under the highway overpass: there's a skateboard park under one side, and on the other side, stables for a few police horses.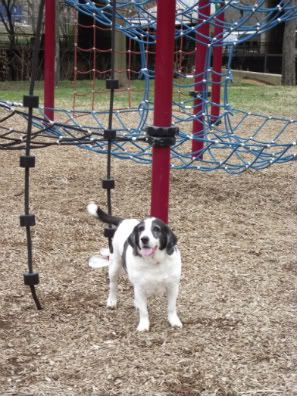 (Straight back, behind Willa, is where the horses are stabled)
Best museum to take kids (in my opinion):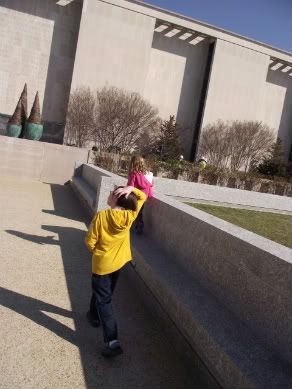 The newly renovated National Museum of American History. I just wish we could figure out a way to better plan our outings there--we never quite budget our time right and the kids end up too tired before we've managed to see even half the museum. L. wanted to dash through the first two floors and then could have spent hours on the 3rd floor, looking at all the exhibits on the American presidency. And, of course, there's the dollhouse. And lots of hands-on science activities for the kids.
Best Scrabble word ever (created by L.):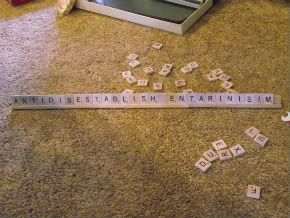 My kids are never at my parents' house for too long before they begin to drag out all the board games: Scrabble (Greek and English), Bingo, Dominoes. They are like kids who have been deprived of board games all their lives, which is very strange, since we have cabinets overflowing with games of all kinds at home and they hardly ever play with them. 
Of course, there's that pesky Scrabble rule about the seven-letter limit...
Happy weekend!