A good chunk of our Saturday morning was spent doing this: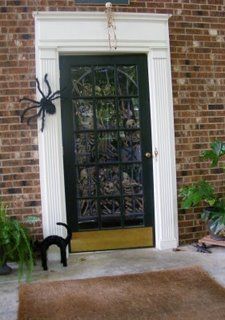 I know it's not even October yet, but it will be on Wednesday, and what better time to decorate the house for Halloween than on a weekend? And, as L. pointed out the other day, waiting until next weekend would mean the decorations would go up a whole three days AFTER October 1--sacrilege!
I've always loved decorating for the holidays. I love going down into the crawl space and dragging out the boxes and bins of decorations. I love reacquainting ourselves with trinkets and holiday ornaments that we haven't seen for a whole year. The kids delight just as much in the unpacking and discovery process as they do in the actual  putting up of the decorations. T. ran here and there with her arms filled with orange stuffed pumpkins and Halloween teddy bears. L. set about ordering the arrangement of everything--exactly as it had all been arranged last year, of course, down to the placement of the tombstone in the front yard and the handfuls of fake spiderwebs.
While I was down in the crawl space, I accidentally opened a bin filled with L.'s old baby clothes, and I had to shove aside another bin filled with T.'s baby things from four years ago: some rattles, a soft book, a bath toy, and my boppy pillow. I touched them all, and showed them to T., who had followed me down, braving the camel crickets and the leggy spiders.
"We should get these out, too!" she exclaimed, sorting through once-familiar things with her busy hands. But we packed them away in the end, and I clicked the bin lids firmly into place.
There should be some tradition, I thought, where we break out all the old baby things once a year--hang them up, arrange them just so, these relics from the past. There should be a tradition where we revisit these mementos, in many ways more valuable than a stuffed, singing pumpkin, or a string of plastic ghouls. It saddens me in a way to have all these important things packed away. They were too important to pass on to other kids, but are also too important to languish away in the crawl space.
Maybe we need a new holiday, a Spend the Morning Fondling Old Baby Clothes and Toys Day. Or, better yet, a day when we bring the bins upstairs and dump the lot on the floor, exclaiming again over the impossibly tiny pants and shirts, the Mother Goose blankets, and the well-chewed soft books, once held in hands that today are sturdy, and strong, and turned always to bigger things.