New clothes for school?
Check.
Note that L. picked out jeans to wear on the first day! He hasn't worn a pair of jeans since first grade and I keep doing a double-take when I see him with them on! 
New shoes?
Check.
New backpacks waiting by the door?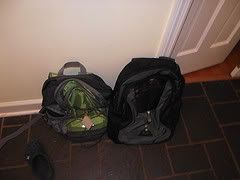 Check.
New lunch bag for T.--the perfect fit for her bento box?
Check.
And let me just say, for the record, that nothing says the end of summer like having to wake your 11-year old up at 6:00 am for school. Here's to fabulous days back for all our kids!