A few weeks ago a friend of mine posted on her Facebook page that her little son had somehow tipped the entire Christmas tree over onto himself. He wasn't hurt, thank goodness, but several ornaments were, and when I read that I winced inside for my friend. When you set up a tree year after year, and you have kids and loved ones who make or give you ornaments each holiday, inevitably there are going to be quite a few that you keep close to your heart. Luckily for us, many of the most special ornaments on our tree are of the handmade/paper variety, and they are pretty hardy as far as ornaments go. But we also have a good number that are breakable and that I take care to wrap up at the end of each holiday because I know--I just know--that if they were to break my heart would break a little bit--just a little bit, but it would.
I love our tree, and we have to leave it each year when we travel for the holidays. So I try and spend some time in the crazy days leading up to the holidays looking at it, and thinking about the different ornaments. When we decorate each year I tell the kids the same stories about how we got this ornament, or that one, so that they will remember the stories and they will become their own, too.
One of the oldest ornaments we have is this one, which I bought along with a set of two other ones:
She's Secretary Mouse, which I thought was kind of funny since at the time I was working as an executive assistant at NPR. I also bought Skiing Mouse and Judge Mouse (holding a pair of scales)--why, I don't know, but I think I just took a liking to the little mice. I bought them at the now extinct Woodward & Lothrop that used to be off of Metro Center in DC. That was the first Christmas (fifteen years ago!) Scott and I spent together in our own place and we had bought a tree and everything. I was so excited to buy our first ornaments and hang them on the tree that night.
This funny Santa guy was also one of the first ornaments I bought for Scott: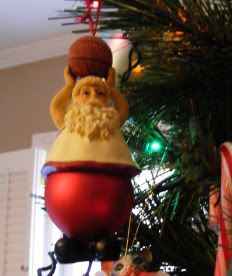 My husband's zeal for basketball has waned somewhat over the years (replaced by a zeal for collecting vinyl and vintage electronics), but at the time it was very appropriate and appreciated. I think I'll keep a look out for LP shaped ornaments or, perhaps, a tiny turntable to hang from the tree.
This ornament is one of my favorites. I bought it the winter I was pregnant with T. and it was the one and only Christmas we didn't travel, because I was due with her too soon after the holidays and my OB/GYN wanted me to stay put. But each year when I hang this one on the tree I remember that Christmas--the last one L. had as an only child, and the strange, bittersweet, peace of that particular Christmas Day--a Christmas Day unlike no other.
We bought this ornament
to remember our cat Izzy. She died of mouth cancer a few years ago, at the age of thirteen. She used to love the Christmas tree, and sleep on the tree skirt under the tree for hours. It was hard that first Christmas not seeing her little black and white face poking out from between the branches.
Each year we let the kids pick out a new ornament--it's fun to see how that year's ornament matches their current interests. What tree, of course, would be complete without the dark figure of Darth Vader looming from in between the branches?
I'm not sure I cherish this the way I cherish others, but L. picked it out this year and it reminds me of my boy.
T. picked this one this year, and I know I'll look at it every year from here on out and remember her giddy laughter as she ice skated for the first time.
And, of course, the best most treasured ornaments in our collection are the ones the kids made, like this one:
T.'s four-year old hand, traced, painted, cut out, and laminated for posterity. I love this one so dearly--I think I'd miss it more than any other one.