My kids have enjoyed our weekly summer science activities so much this summer that they actually asked whether or not we could do summer science at the beach this week. I was impressed. If I had managed to get my act together ahead of time, I could have tried to track
this book
down at the library; instead, I had to wing it. But being at the beach is like opening the door into a wonderland--every corner of your surroundings is jam-packed with natural treasures and discoveries; there is the rhythm of the tides to explain to the kids, the arc of the sky over the sea to marvel at, the skittering ghost crabs, the sand crabs, even the clumps of seaweed are fascinating. One of our favorite activities to do at the beach is, of course, shell and rock collecting. When we found out that many types of metamorphic rock can be found along the coast of North Carolina (we stumbled into a strange little museum called, to L.'s delight,
Missiles and More
, which also, oddly, housed an extensive shell and rock collection) we set out on Tuesday with our buckets to do some serious collecting. When we were done, we dumped the contents onto the beach towel and began sorting.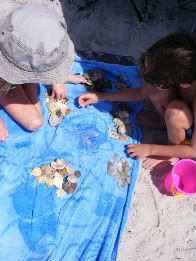 L. has always loved putting things into categories, and T. is learning this skill--an important one for kindergarten. We created categories for our finds: one pile for the metamorphic rock, another for shells, another for what L. called "duck feet"--the strange, knobbly oyster shells. As the kids sorted we talked about the different colors and textures, where we thought the rocks and shells had come from, and what the different shells might have housed at one point.
It might not have been the most elaborate summer science project in the world, but there, under the hot blue sky, with the salt on our skin and the sand in our toes, it might have been the most satisfying one yet. ************ Wish you were here: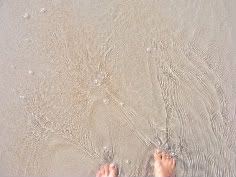 I'll be back on Monday with some tales from our week--and there are some, believe me. Until then, Happy Weekend!